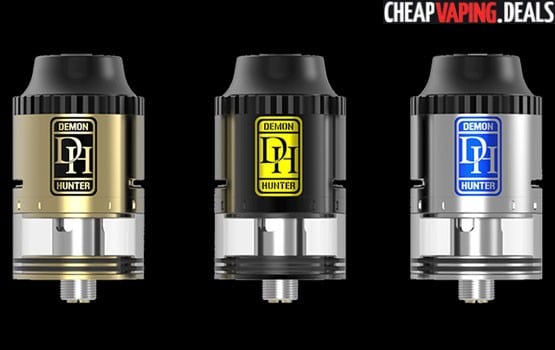 Here's a cheap price for the Smokjoy Demon Hunter RDTA.
Overview
The Demon Hunter is the first RDTA from Smokjoy.  It can be used as an RTA or a dripper by taking out the glass section via a convenient process.   The RDTA  features an adequate 2.8ml capacity, a top fill system, easy wicking, huge airflow and massive wire terminals.
The Demon Hunter's build space is made with a dual post deck that features 3mm x 2.5mm wire holes for compatibility with virtually any wire size,  making coil building easier than ever.  The posts are made of stainless steel and the electrodes in each terminal are gold plated for maximum conductivity.    Airflow is massive with dual external slots on the side of the RDTA directing air via two large air holes directly to the coils.  This allows for high power vaping at a recommended range of 3o watts to 150 watts and preserves vape flavor.    Wicking is also convenient with four large cotton holes surrounding the deck.
When used as an RDTA, the Demon Hunter has a 2.8ml tank capacity that is easily refilled via a top fill system.  This simple process means you  just pull off the top cap to add juice.  At the bottom of the device, there's an adjustable Peek insulated gold plated 510 pin for maximum conductivity and heat resistance.
The Demon Hunter measures 25mm wide by 47mm high and is available in gold, black or stainless steel colors.  The materials used are a Pyrex glass tank with a stainless steel chassis.  The gold color is also gold-plated for an amazing look.
Video
Features & Specs
Dimensions: 25mm x 47mm
Weight: 46g
Materials: stainless steel and pyrex glass
Colors: gold, black, silver
Gold RDTA features gold plating
Tank capacity: 2.8ml
510 threaded connection with 18K gold plated adjustable pin
Peek insulated
Dual post build deck with 3mm x 2.5mm wire terminals
Gold plated electrodes
Four large wicking holes for easy cotton installation
Recommended power range: 30W to 150W
Dual adjustable external airflow
Dual internal air holes under posts
POM drip tip
Spare parts
User manual
Extra Pyrex glass tank
Pictures