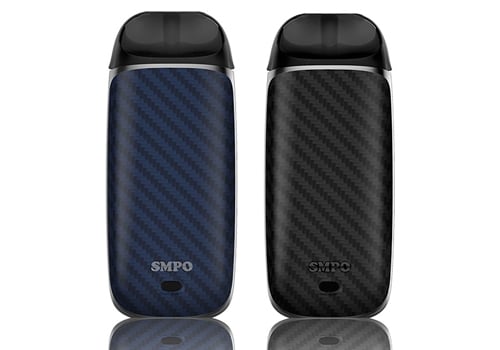 Here are cheap deals for the SMPO Pod Starter Kit.
Overview
The SMPO Pod Starter Kit vape system is designed by Nex Labs and produced by Vaporesso. With dimensions of just 34mm x 80.5mm x 15.5mm, this all-in-one setup has a small profile, so you may simply place it in your purse or pocket to engage in stealth style vaping with your favorite high nicotine juice or nicotine salt e-liquids. Available in black or blue colorways, the paint finish has carbon fiber like patterns for an exquisite appearance.
To make it one of the easiest AIO systems in the marketplace, the SMPO utilizes affordable 5% salt based nicotine pre-filled pods that have a 1.8ml capacity which would compare to smoking two packs of analog cigarettes or 400 puffs on a cig. Available flavors include full fruit, classic tobacco and menthol. The cartridges connect to the battery via a magnetic connection to ensure efficient power transfer.
Inside the mod of the SMPO Pod Starter Kit, you will find a 650mAh integrated battery that is built with a fast charging micro USB port. Tracking the cell's charge level takes place via an LED that lights up in either white, yellow or red. To fire the unit, you simply inhale on the mouthpiece, so you don't have to hassle with pressing any buttons. And, thanks to the latest chip board, the SMPO has an automatic temperature control system, as well as an e-liquid level monitoring system, preventing any burnt or dry puffs!
Total Views Today: 1 Total Views: 130