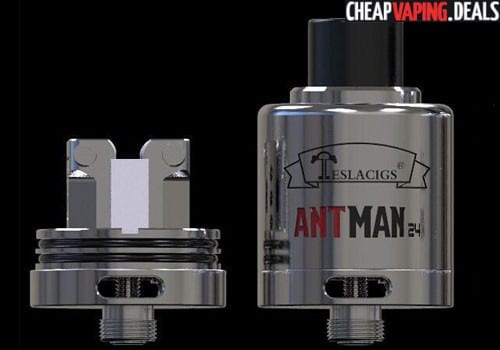 Check out these deals on the Tesla Antman 24mm RDA. 
Overview
The Antman 24 RDA was designed to be used with specialty coils and has a unique deck with screw-less posts.
The RDA measures 24.2mm x 54.7mm and is made from stainless steel.  The device allows for a glass tube to be installed to extend the vape juice capacity. The bottom has also been completely redone to preserve and enhance vape flavors and there's an ejuice splash protection system.  The Antman 24 is also built with large top and bottom airflow holes for huge vapor production.
The build deck was built for advanced vapors and features a screw-less deck.  This permits intricate and large coil builds to be easily installed.  Go ahead and throw any coil wire you want at this beast including tiger, twisted and Clapton ones.  The RDA is said to work well for both power and temperature control vaping.  And, there's three recommendations on how to build: you can install two kanthal wires horizontally and vertically or build two vertically installed stainless steel wires.
Features & Specifications
Dimensions: 24.2mm x 54.7mm
Constructed from durable stainless steel
SS316 food-grade heating elements
Available in silver
Color Antman 24 engraving
Oil splash protection
Top and bottom adjustable airflow for flavor and vapor
Dual post deck with screw-less posts
Works well with large and intricate builds
Easy to wrap wire
Pictures
Video Review