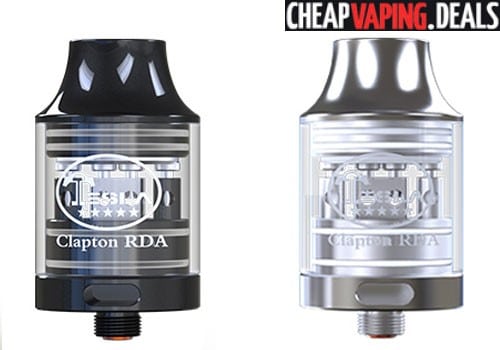 Here's a blowout deal on the Tesla Clapton RDA.
$17.66 & Free Shipping

  
Overview
The Tesla Clapton has an amazing build deck and huge airflow that puts other high end rebuildables to shame.  Just as its name implies, you can use very thick wires and complex builds with this RDA.  The Clapton features a glass tube in case you want to show off your build.  Or, you can use the included stainless steel tube that matches the RDA's color.  Whichever you prefer!
What really sets this RDA apart is the 24mm deck that features four posts with large postholes that are compatible with virtually any wire gauge you can buy.  And, there's also a big center post that was designed to make building easier.  You'll never have to worry that you're coils won't fit.   Airflow is also massive with the Clapton RDA.  Air moves directly from the huge, adjustable cyclops style airflow slots onto the coils to create massive vapor with incredible flavor.
The device comes with a chuff top that prevents e-liquid from getting into the mouth.  The spitback prevention attachment fits directly into the bottom of the top cap.  There's also a big 10mm wide bore drip tip included that hooks to the top cap via two big o-rings.   If preferred, you can also remove the mouthpiece and drip directly into the RDA.
Overall, the Clapton RDA by Tesla looks like an amazing device that allows for full use of high powered mods! With a four post deck, massive post holes, and incredible airflow, it is perfect for giant vapor production with fantastic flavor!
Features & Specs
Diameter: 24mm
510 threaded connection with copper center pin
Constructed from stainless steel
Show off build with transparent tube
Four post deck with huge post holes
Deep juice well
PEEK insulator
Fully adjustable airflow
Anti-Spitback chuff top
Video Review
Total Views Today: 1 Total Views: 5