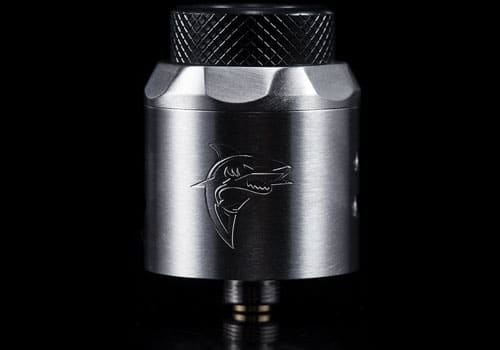 Here's a cheap deal for the Timesvape APEX RDA.
Overview
The APEX RDA was designed in the USA and is manufactured by Timesvape. It features durable construction, a BF pin, a dual post deck, massive wire holes, large screws, widely adjustable airflow, single to quad coil compatibility and comes with three drip tips.
What sets this 25mm diameter RDA apart from the rest is the Hex deck that has a dual hexagonal-prism shape and is compatible with single to quad coil builds. The build deck has dual posts with two 3.5mm x 2.5mm side post holes and two 1.3mm x 3.5mm top holes to work effortlessly with large intricate builds. To further facilitate effortless coil installation, the posts also utilize massive 4.3mm diameter screws. Underneath the deck, you will find a large 3.8mm juice well to prevent the need for frequent dripping.
A dual twin cyclops airflow system is fully adjustable so you may chase clouds are engage in mouth to lung vaping. This RDA is said to have one of the widest ranges for airflow settings. Additionally, the conical top cap promotes smoother airflow while increase vape flavor.
The APEX is constructed from 304 stainless steel for longevity and durability. At the bottom, you will see a squonk 510 pin with a spray guard that is milled into the positive. If you don't want a BF pin, the package also includes a standard copper 510 one. This RDA is compatibile with 810 drip tips, but you'll receive a 510 drip tip adapter. Best of all, with purchase you will get a diamond knurl widebore Delrin drip tip, a widebore PEI drip tip and a Resin one that has a random color.
Features
Diameter: 25mm
Colors black, silver
Constructed from 304SS
Hex build deck

Hexagonal prism shape
Dual posts
3.5mm x 2.5mm side post holes
1.3mm x 3.5mm top post holes
Utilizes 4.3mm screws
Works with single,dual,triple,quad coil builds

Twin cyclops dual airflow intake system

Fully adjustable
Unique airflow control cap

Stylish and functional
Easy to grip

BF squonk 510 pin

Raised
Spray guard mild into positive post
Copper 510 pin also included

810 drip tip compatibile

Resin drip tip included
Widebore PEI drip tip included
Diamond knurl widebore black drip tip included
510 drip tip adapter included

Microfiber cloth included for cleaning
Extra screws included
O-rings included
Total Views Today: 1 Total Views: 16