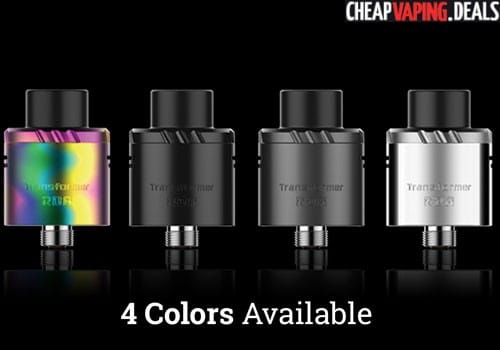 Here's a fantastic deal on the Vaporesso Transformer RDA.  
Overview
The Transformer is a new RDA by Vaporesso and features a 22mm diameter and interchangeable deck.  You can choose to install either the included quad terminal postless deck or the included dual post with dual wire holes deck.  The device is available in black, dark grey, silver or rainbow colors.
The RDA is made from stainless steel and has a diameter of 22mm, with an 18mm build deck.  At the bottom of the device, you can use either a squonk or traditional 510, both of which are included and feature gold plating for better electrical conductivity.  You will also receive a 10mm Delrin drip tip to be used with the shorty top cap.
For more customizable airflow settings, there's also two alternate top caps.  First, there's a shorty top cap that features dual adjustable airslots and is meant to be used with the postless deck.  This top cap is built with a smaller chamber to produce intense flavors.   Or, you can use the larger top cap that has thirty 1mm air holes on each side for huge airflow that also produces a one-of-a-kind airflow pattern.
The deck options is what gives the Transformer its name.  First, there's a two post build deck with dual wire holes per post that measure 3mm x 2mm.  Or, install the postless build deck that has four 3mm x 2mm terminals (two postive & two negative) and works perfectly with either a dual or single coil build.
Features & Specifications
Diameter: 22mm
Stainless steel construction
Adjustable/gold plated 510 connection pin
Adjustable/gold plated squonk connection pin
Two deck options
Postless build deck with quad 3mm x 2mm terminals (single or dual builds)
Dual post build deck with 3mm x 2mm dual terminals
Massive juice well
Shorty top cap for flavor
Full sized top cap for massive airflow
10mm Delrin drip cap
Video
Pictures