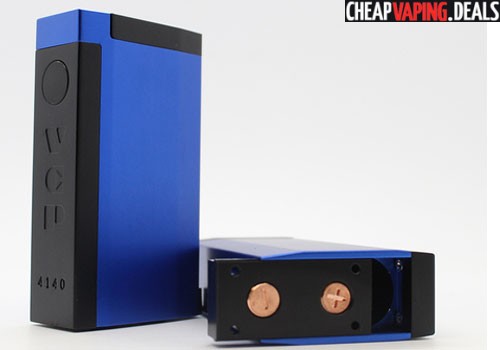 Here's an awesome deal on the VCP Mecahnical Mod by Vapercloudz, also known as the Piglet.
Overview
The VCP, or also called Piglet,  is a 100% mechanical 18650 box mod that features a series battery setup which can put out up to 8.4 volts with full charge.  It is meant for advanced users only.  Prior to use, make sure you know Ohm's law!
The mechanical mod is constructed from durable anodized aluminum  to make sure there's virtually no conductivity loss and to minimize voltage drop.  The device also features high grade copper contacts, an adjustable solid 510, a fully mechanical switch and a delrin fire button which eliminates the need for a locking switch. On the bottom, there's a flush mounted sliding battery panel with clear indicators for negatives and positives to ensure the two high drain 18650 batteries are installed correctly.
The Piglet's unregulated battery configuration can directly put out up to 8.4V.  For best results, it is recommended to keep the resistance range between 0.25Ω to 0.5Ω for optimum vapor.   With this unit, you can go ahead and install massive coils in your RDA and watch it produce huge vapor clouds!
Video
Features & Specs.
Anodized aluminum materials
Minimize voltage drop
Output up to 8.4 volts
Recommended resistance: 0.25Ω – 0.5Ω
510 connector
Fully mechanical switch
Utilizes two 18650 batteries
Copper contacts
Adjustable solid 510 connection
Easy sliding battery panel
Delrin fire button
Total Views Today: 1 Total Views: 61