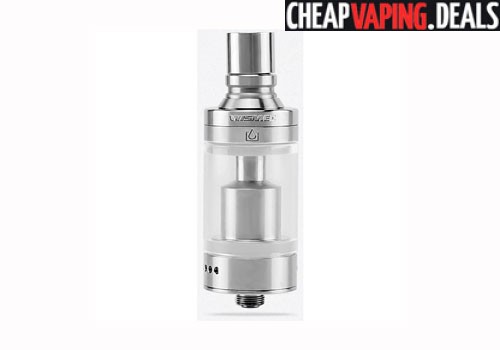 A fantastic deal just went live for the Wismec Amor Plus Tank RBA.
$29.99

$16.79 

 
Overview
The new Amor Plus tank has a very elegant design and  is constructed of quality stainless steel and a clear glass tank tube.  It features a brand new adjustable ejuice port and supports all coil types.  Vaping on this device is said to result in excellent flavor.  And, with top e-liquid functionality and nine bottom airflow holes, this device is one of the best vape tanks around.  The entire device is also easily disassembled for deep cleaning.
The tank supports nickel, titanium, kanthal and also RBA coils.  These are all included with purchase to ensure you can easily personalize your vaping preference.  All coil heads are made with 100% pure organic cotton for healthy vaping and to enhance vape flavor and clouds.
The Amor Plus features leak proof top filling, so there's never a need to remove the tank from the mod to add e-liquid.  Airflow on this device has also been changed to be more massive.  Simply rotate the bottom ring to adjust 9 vent holes.
This is yet another fantastic device that Wismec has brought to market.  Many reviewers have said this is one of the top tanks they use.  The airflow is fantastic, the topfill is easy and the device produces excellent flavor.
Wismec recommends to use the Amor Plus with their Presa 75W box mod.
More information on the Wismec Amor Plus Tank here
Features
Diameter: 22mm
Height: 54mm
Tank capacity: 3.8ml
0.3ohm Kanthal coil
0.15ohm Ni200 coil
0.5ohm Titanium coil
0.5ohm rebuildable coil
Color: silver
Easy airflow control with 9 holes
Leakproof topfill
Video Review
https://www.youtube.com/watch?v=bCQSAJdozu4
Total Views Today: 1 Total Views: 510