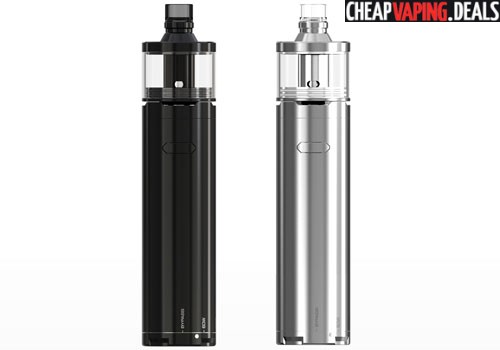 Check out this fantastic deal on the Wismec Vicino D30 Starter Kit.
Overview
The Vicino D30 is the upgraded Vicino setup from Wismec.  It features a huge 3000mAh battery for long vape times, up to 60 watts of power, bypass mode and a massive 6ml e-juice capacity.
TheD30 kit has a diameter of 30mm and the tank can hold up to 6ml of e-liquid.  E-juice can be added via an easy top fill design for simple & leak free refills.  The tank is built with hidden bottom airflow control which is easily adjusted from wide open to closed.  Inside the tank, you will find  a high powered triple coil that is made with pure cotton and has a resistance of 0.2Ω.  This heating element was designed to provide huge flavorful vape clouds.
The D30's battery mod is made of aluminum, has a cylindrical shape and features a massive 3000mAh battery, so you'll be able to vape this kit non-stop for an extended period of time. The cell is easily recharged by connecting the device to any wall outlet or computer.  Battery levels are easily monitored by checking the power button light.  If the LED is flashing, it's time for a recharge.  When fully charged, the button light will be extinguished.
Wattage is adjustable via the one-of-a-kind bottom ring in the range of 5W to 60W.  Or, you can use the battery mod as a unregulated device in bypass mode with which ouput power relies solely on battery voltage.
Safety was also kept in mind when building this kit with dual circuit protection built into the unit.  This safeguards the Vicino D30 from over-charging, over-current and over-discharging.
Overall, the Vicino D30 looks like an excellent kit for both beginner and advanced vapers who need an effective setup that is easy to use.
Video Review
Features
Diameter: 30mm
Aluminum Vicino D30 tube mod
Stainless steel/glass Vicino D30 tank
6ml massive e-liquid capacity
Hidden adjustable airflow
Triple 0.2Ω coil heads made with organic cotton
Built-in 3000mAh battery – long vape times
USB charging
LED light with battery life indication
Power mode: 1W to 60W via adjustable bottom ring
Bypass mode based on battery voltage
Springloaded 510 connection with gold plating
Dual circuit protection
No atomizer recognition
Over discharge protection
Over charging protection
Total Views Today: 1 Total Views: 13