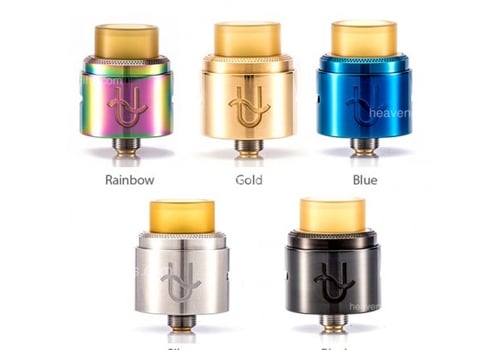 Here are cheap deals and best prices for the Wotofo Serpent BF RDA.  This item features a horizontal dual post/quad terminal deck, side adjustable airflow, a BF 510 pin and a deep juice well.
Overview
In the design department, the Serpent BF RDA is made from superior 316 stainless steel and measures 22mm across. The device is quite compact, has high quality engineering and is available in rainbow, gold, blue, silver and black. At the bottom, the unit has a 24K gold plated 510 connection that is hollow for the purpose of squonking. With purchase, you will receive both an 810 ultem drip tip and a stainless steel one as well.
Under the hood of the Wotofo Serpent BF RA, you will see an embedded horizontal build deck that features dual posts with four wire terminals in total. This deck works with both single and dual configurations an builds are secure via top hex flathead screws. Underneath, you will find a deep juice well as well. Airflow on the Wotofo Serpent BF occurs via triple side air slots that can be adjusted via rotation of the top cap. Air travels directly to the chamber to hit the coils with maximum effectiveness.
Serpent BF RDA Features & Specifications
Diameter 22mm
Made from superior 316 stainlesss steel
810 ULTEM widebore drip tip
Stainless steel widebore drip tip
Triple side adjustable airflow slots
Direct-to-coil internal airflow
24K gold plated squonk ready 510 pin
Embedded horizontal dual post build deck

Single & dual coil compatible
Quad terminalas
Top secure hex flathead screws
Deep juice well
Related
Wotofo
BF RDA
Total Views Today: 1 Total Views: 760