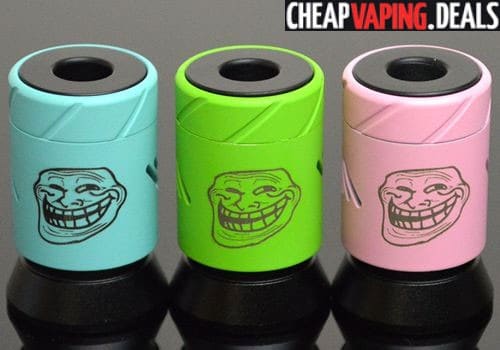 What a fantastic BOGO deal on the Wotofo Troll V1.5 RDA.  
Buy One Get One: Wotofo Troll RDA

    
Overview
The Wotofo Troll RDA is from the same designers of the Freakshow Mini RDA. While the Freakshow was designed with flavor in mind, the Troll RDA features more enhanced vapor production.
The RDA has a diameter of 22mm and is constructed from stainless steel.  On one side of the device, there's a Troll face which is reminiscent of an avatar you may find on internet troll accounts.  With the BOGO deal, you can get one in white, cyan or pink.
The Troll has an angled airflow design to produce a swirling effect for cloud chasing.   The airflow control is also slanted to enhance this effect.
With a four post setup and a removable deck, the RDA was designed for easy building.  There's options for single coil or dual coil builds.  With 1.5mm  holes on all four posts, you can easily build with 22 or 24 gauge wire.  The Troll also sports a deep juice well so it can hold a good amount of e-liquid.
In the top cap, you can connect any 510 drip tips.  You can also remove the Delrin ring from the top cap, revealing a larger opening to connect a wide bore drip tip.   The top cap was also designed to more easily disburse heat.
The RDA connects to any mod via its copper 510 pin, which is silver plated for maximum electrical conduction.
Overall, if you are a cloud chaser, you should put this RDA in your collection.   And with this BOGO deals, it's a no-brainer to get one two.
Features & Specs
Made from stainless steel
Huge airflow with three large slots in angled pattern for swirling effect
Top cap adjustable airflow & heat disbursement
Very deep juice well
Four post design
Single or dual builds
Removable deck
Amazing vapor production
Silver plated 510 copper pin
Video Review
Total Views Today: 1 Total Views: 49