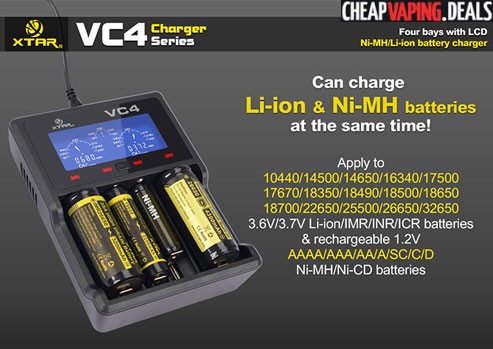 Here's a great deal on the XTAR VC4 Charger.
$18.99 & Free Shipping 

 Use coupon code

VC4cash4

 at checkout
Overview
The VC4 charger by XTAR is the follow-up on the company's  VC2 and is capable of all the amazing features of its predecessor, with a few upgrades.
The device can charge four batteries at the same time.  It is compatible with a wide range of vape batteries including 18650 and the extremely wide 26650s which easily fit into the larger outer bays.
The unit is powered via its USB port or any wall adapter. There's a USB cable included,  but if you use one your own, it is recommended to be a 2A USB cord to optimize battery charge time.
Under the display, you will find four red/green LEDs and there's a button which, when held down, adjusts the brightness of screen.  Simply pressing the button allows you to choose which channel's info you want to display.   If the device has batteries in only two of its bays, it will always show that information.  A green LED means charging has completed and a red one means it's in progress.
The LCD screen shows voltage and maximum current in  a "speedometer" type dial.  You can also clearly see the battery type and charging capacity of each cell.
Safety features are also not missing on the VC4.  If the unit's screen displays "null", it means you have a bad battery cell.  An indication of "Err" means the batteries were inserted the wrong way or that there's was a short circuit somewhere.   And don't worry about overcharging your cells: you can simply leave them in the charger overnight as the VC4 will automatically stop charging when completed.
Another cool aspect of this charger is its 0V activation function.  This technology can rescue any batteries that may have been over-discharged in the past, so they can be used again.
Overall, this looks like an excellent Li-Ion and Ni-MH 4-in-1 charger that has plenty of safety protections and will allow you to maximize your vape batteries' life.
More information and specifications for the VC4 on the Xtar website
Video Review
https://www.youtube.com/watch?v=BCWgOBO-bek
Total Views Today: 1 Total Views: 26