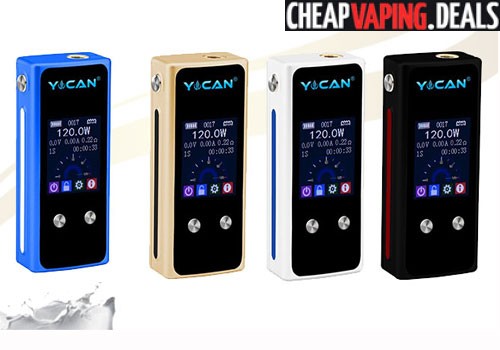 Here's your chance to get an authentic Yocan Punk 120W Box Mod. Get one for just $32.99
 $32.99  
Overview
The Yocan Punk 120 box mod was made to give you a safer and better vaping experience.  It has a large collection of features, power, temperature control and looks incredible.  Overall, it's an amazing looking device that is simple to use, is capable of 120 watts of output power and ability to fire atomizers with low resistance.
The main feature of this device is the TFT color screen which is simply stunning.  Depending on the mode, it displays resistance, voltage, wattage, vape time, puff time and temperature.
The device features a massive 120W of power and the temperature range is 200°F to 600°F.  The lowest atomizer resistance is 0.12Ω, making it a sure bet for pretty much any atomizer or sub ohm tank.
The Punk 120 is powered by two external high amp 18650 batteries.  They can be found behind the battery door on the back of the device.  Swapping batteries is easy by simply pulling the door from the powerful magnets holding it down.  The Punk can also be charged via the USB port on the side.
Features
Dimensions: 100mm x 47.9mm x 30.4mm
Weight: 0.26kg
Made of ABS, stainless steel and aluminum alloy
Compact design
Uses two external 18650 batteries
USB charging
Magnetic battery cover
510 stainless steel threaded connector
Springloaded center pin
Resistance range 0.12Ω to 3.0Ω
Variable wattage:  5 watts to 120 watts
Output voltage: 0.35 volt to 8.4 volts
Temperature control: 94°C to 315°C or 200°F to 600°F
Resistance range in wattage mode: 0.12Ω to 3.0Ω
TFT color display: 1.77″
Easy menu with wattage/temperature, voltage, vaping time, puff time
Customize overtime from 5 to 20 secs
1.77 inches TFT color screen with navigation
Safety features: short circuit, reverse polarity over discharge and high temp protections
Black, blue, white or gold colors available