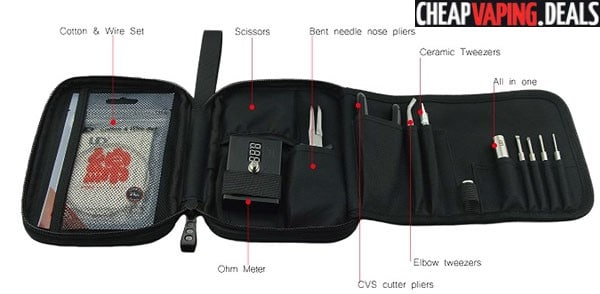 Here's an amazing deal on the Youde UD Coil Mate Tool Kit.
Overview
The Youde Coil Mate Kit is a simply & portable kit that includes all the tools you may need for building, all stored in a high quality zippered case.
What's included?  Some of the stuff you'll get is precision equipment, a digital ohm meter, CVS pliers, tweezers, a set of cotton & wire, bent needle nose pliers and an amazing coil jig multi tool. The ohm meter is said to display accurate ohm readings for thorough testing of your builds.  The flush cutter and shears work well with any wire while the stainless steel tweezers will ensure easy setting of coils. For heavy duty accuracy, you'll also get stainless steel bent needle nose pliers.
All the tools are stored inside the included case that is made of liquid resistant materials and features a strap for easy carrying.   The case folds open to reveal pockets and fitting that will store all your equipment tightly.    With a comprehensive tool kit and a convenient and durable carrying kit, the UD Coil Mate DIY Tool Kit is a great addition to any collection.
Features
Fold-out durable carrying case with zipper
Ohm meter
Stainless steel shears with polymer handles for trimming
Flush cutters with atomizer grip design
Ceramic tweezers
Bend needle nose tweezers and pliers
Builders Choice cotton: 3 huge Japanese organic cotton sheets
Builder's Choice wire: 10ft of 26 gauge kanthal A1
Coi jig and multi tool: 2mm hex key, 2.5 mm phillips head, 3.0mm phillips head, 3.5mm flathead
Video Review
Not available
Total Views Today: 1 Total Views: 769