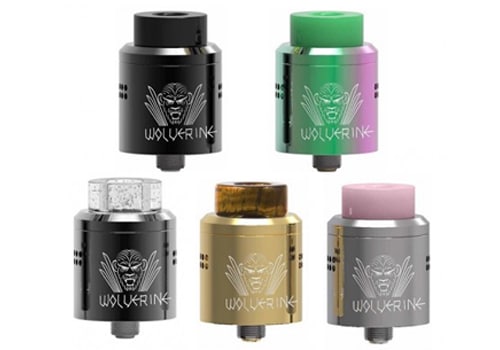 Here are cheap deals for the Ystar Wolverine RDA.  This rebuildable dripping atomizer features an exquisite design with beautiful laser engravings, single/dual/mesh compatibility, side adjustable honeycomb styleairflow and a postless gold plated build deck that is effortless to work with.
Overview
From a design perspecitve, the Ystar Wolverine measures 24mm x 33mm and is made from stainless steel and includes an 810 jade drip tip that fits perfectly into the mouth. The finish colors are bright and include gold, rainbow, gunmetal, silver and black. On one side, you will see a beautiful white wolverine laser engraving that is sure to turn heads. Airflow is controlled by rotating the chuff cap which adjusts multiple small honeycomb style external air holes that provide air directly to your build.
Under the chuff cap, you will find a 24 karat gold plated postless build deck that work with single coils, dual coils and mesh coils. The deck is built with four wire holes and utilizes side flat head screws to keep the builds in place. PEI is embedded into the deck to produce pure taste and insulate heat. And, the juice well is deep to prevent the need for frequent dripping.
With purchase of the Ystar Wolverine, you will also receive two clapton coils, a mesh coil, an 810 drip tip, a 510 drip tip adapter and some extra parts.
Ystar Wolverine Features & Specifications
Measurements: 24mm x 33mm
Colors: gold, rainbow, gunmetal, stainless steel, black
Made from SS
810 jade drip tip
510 drip tip adapter
Dual side adjustable airflow

Numerous small air holes on both sides

Build deck

Postless
Gold-plated for maximum conduction
Works with single, dual and mesh coils
Four wire terminals
Flat head screws
Embedded PEI for taste
Deep juice well
Total Views Today: 1 Total Views: 276