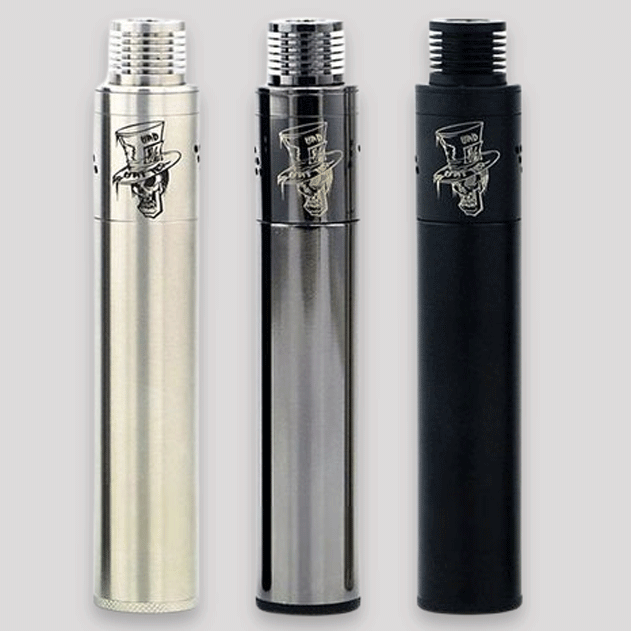 Here's a fantastic deal on the Advken Mad Hatter V2 Kit.  This kit is old, so check out our newer Tube Mod & Kits.
Mad Hater V2 Kit Overview
The Advken Mad Hatter V2 Kit is for advanced vapers and features an RDA with a velocity-style deck. It also includes a tube mod that matches the RDA's finish. The kit is made from stainless steel and is available in black, gunmetal, or stainless steel.  All three colors feature an amazing Mad Hatter logo on the RDA and the bottom of the battery.
The Mad Hatter V2 RDA features 9 air intake holes on both sides that are adjustable for huge airflow. The Velocity-style build deck features tall dual posts and large post holes. The negative post is milled into the deck, and machine post screws are used to ensure durability.   The juice well is also an adequate size, and there's PEEK insulation. The 510-threaded connection pin is copper plated for maximum electrical conduction.  The RDA is compatible with 510 drip tips; you'll receive one matching the battery.  As with the Mad Hatter V1, the top cap flips open to add e-liquid.  The V2's battery mod uses a single 18650 battery with a brass 510 connection.  It is built without electrodes to ensure direct contact with the RDA and improve conductivity.
Features & Specifications
Mod
Dimensions: 22 x 22 x 70mm
Stainless steel construction
Brass 510 threaded connection
Brass contact
Use one external 18650 battery
Direct contact with the atomizer
Utilizes a single 18650 battery
RDA
Dimensions: 22 x 22 x 53mm
Made from stainless steel
Replaceable drip tip
Compatible with 510 drip tips
Hinged top cap
Massive adjustable airflow
Machine post screws for durability
Copper 510 pin for maximum electrical conduction
510 spring threading connection
Total Views Today: 1 Total Views: 276