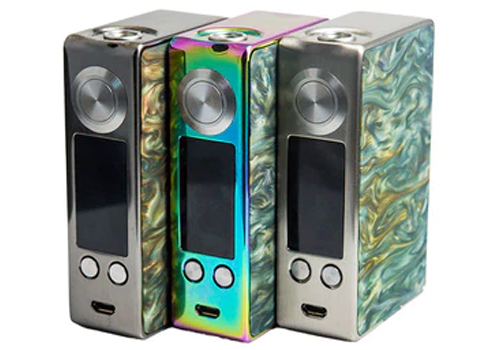 Check out these cheap deal for the Aleader Funky 160W  Resin Box Mod.  
Update: This Item Is Out Of Stock Everywhere – Check  Similar Mod  Deals Below
Video Review
Overview
The Funky 160W box mod by Aleader features swappable resin plates, dual 18650 cells, 160 watts of output, temperature control modes and a 2 amp fast on-board charging system.
With interchangeable magnetic resin faceplates attached to a stainless steel chassis, this mod's design is premium and yet the cost comes in under 50 dollars. The panels are available in the following patterns: bronze, stainless steel and rainbow. This device is portable because the dimensions come in at just 53mm x 26mm x 88mm.  On the bottom, there are a few venting holes to keep the batteries and device cool.  At the top, there's a stainless steel connector that is compatible with up to 24mm atomizers and is built for easy  installs thanks to a spring-loaded center pin.
On the control interface, there's a large ergonomic fire button, two adjustment buttons, a micro USB port and a 0.9 inch OLED display.  The menu on the screen is vertically oriented and indicates data such as current mode, wattage/temperature, current taste mode, resistance, voltage, amperage, number of puffs, joules and two battery bars with charge level percentage.
Powered by dual 18650 cells — hidden behind one of the face plates —  the battery bay features clearly marked polarities. While located inside the mod, the batteries may be charged via the micro USB port that has a fast 2 amp charging system.
Technically, this device is multifaceted with a power mode that can reach 160 watts and  temperature modes (nickel, titanium, stainless steel) that have a maximum output of  600 degrees Fahrenheit.  Power mode is made with triple taste modes that include soft, standard and powerful, resulting in more versatile variable wattage vaping.  For best atomizer compatibility, the Eleader Funcky box mod's resistance capability is also quite low at 0.05ohm in temperature modes and 0.10ohm in power mode.
Features & Specifications
Measurements: 53mm x 26mm x 88mm
Weight: 187g
Stainless steel chassis
Resin face plates

Interchangeable
Held in place by magnets
Access the two 18650 cells
Colors: bronze, stainless steel, rainbow patterns

Water resistant design
High quality large fire button
0.90″ OLED display

Lots of vape data
Vertical orientation
Battery bars with percentage for each cell

Recessed 510 connection bezel

Works with atomizers up to 24mm in diamater
Spring-loaded pin

Utilizes two 18650 batteries

Battery bay with clearly marked polarities
Fast 2A charging system
Battery ventilation
Battery cutoff protection: 3.2V/cell or 6.4V total

Operating modes:

Power mode

Soft, standard, powerful options
Output range: 1W to 160W
Resistance range: 0.1Ω to 3.0Ω

Temperature control modes

Nickel heating mode
Stainless steel mode
Titanium heating mode
Output range: 200℉ to 570℉ or 93℃ to 315℃
Resistance range: 0.05Ω to 1.0Ω
Pictures
Total Views Today: 1 Total Views: 394