Here is a cheap deal for the Ample Mace Tank.

Overview
The Ample Mace Tank features a new disc-type heating coil for better conductivity and juice atomization, a 2ml/3ml or 4.5ml juice capacity, easy top refills and dual adjustable bottom airflow slots.
What's unique about the Mace Tank is the new Ample Hive Coils (AHC) that are installed horizontally at the bottom and span the entire width of the tank. Because of the larger heating surface, e-juice is completely atomized to produce the most original flavor possible. Included with purchase, you will get the AHC-F1 coil that fires between 0.24 and 0.30ohm in the range of 35 to 65 watts, but is best between 50 and 60 watts. You will also get an ADC-F1 coil that has a resistance range of 0.27 to 0.32ohm and has a range from 30 to 90 watts but is recommended between 40 and 65 watts. For optional coils, please check the specifications below.
Another one-of-a-kind aspect of the Ample Mace Tank is that the juice capacity can be changed to 2ml or 3ml or 4.5ml. Out of the box, the unit has a 3ml capacity, but if you install the volume reduction plug, the tank's reservoir can only hold 2ml of e-liquid. Or, if you want longer vaping times, simply use the included 4.5ml extension glass. Refills on this atomizer occur via a top fill port that is hidden below the top cap that easily comes off.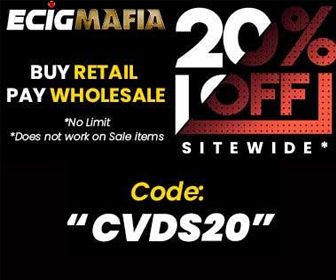 From a design perspective, the Mace looks modern  with grooved accents seen all over bright color options that include rainbow, blue, silver and black. The width of the device is 24.5mm while the height including drip tip is 37.5mm. Airflow is adjustable at the bottom and is built with two air intakes that direct air to the coils via a short path for increased vapor and flavor.
Features & Specifications
Diameter: 25mm
Dimensions: 25mm x 37.5mm
Colors: silver, black, blue, rainbow
Tank capacity: 2ml, 3ml or 4.5ml

3ml: preinstalled
2ml:  install plug
4.5ml: install included tank extention
Top fill system (unscrew top cap)

510 threaded connection
Dual adjustable bottom airflow slots
Detach for cleaning/maintenance
AHC Coils

At bottom of tank
Increased heating surface
Completely atomizes ejuice
Original flavor vapor
Included: AHC-F1

Resistance: 0.24Ω-0.30Ω
Power: 35W-65W
Best: 50W-60W

Included: ADC-F1

Resistance: 0.27Ω-0.32Ω
Power: 30W-90W
Best: 40W-65W

Optional: AHC-S1

Resistance: 0.18Ω-0.23Ω
Power: 45W-90W
Best: 60W-70W

Optional: ADC-S1

Resistance: 0.15Ω-0.20Ω
Power: 50W-100W
Best: 70W-80W
Total Views Today: 1 Total Views: 158