Here are cheap deals to buy the Voopoo Argus XT or Voopoo Argus MT.  These setups are almost identical, but the MT has a built-in 3000mAh battery, while the XT works with a single 18650 or 21700 battery. And both feature 100 watts of variable power, four modes including temperature control, multiple protections, and a full-color display screen.  Either kit includes the Maat New Tank with mesh coils, a 6.5mL juice capacity, a leakproof base, an effortless top-fill method, and adjustable airflow control.
Argus MT & Argus XT Box Mod
The MT and XT box mods are the next generation in the long line of Argus Box Mods and Kits by Voopoo.  Except for slight differences in size and weight, these setups are indistinguishable, but the Argus MT has a 3000mAh integrated cell, while the XT is compatible with a 21700 or 18650 battery.  A convenient USB port makes recharging both mods a breeze.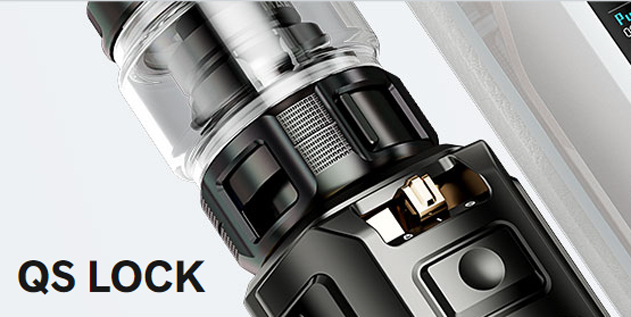 The Voopoo Argus XT and MT Box Mods are designed with a GENE.TT 2.0 chipset, permitting up to 100 watts of power with seven safety features to ensure a secure vape experience.  Another benefit of this chipboard is that it results in stable output in four different settings: smart, RBA, temperature control, and turbo.  Smart mode automatically matches the best output for the attached atomizer, while turbo increases vapor production by 25%.

These new setups look fantastic and are available in several new colors: dark blue, lime green, carbon fiber, graphite, and pearl white.  And they have an IP68 rating, meaning they can be submerged in freshwater for up to 30 minutes while keeping dust and grime out.
Argus XT & Argus MT Kit
The MT & XT kits come with the Maat New Tank, which features a brand new Volcano Crater design that eliminates condensation to make it leakproof and a DL puff-style for massive vapor production.  Mesh coils are also said to bring fuller vape clouds while optimizing the working temperature to enhance the longevity of these heads.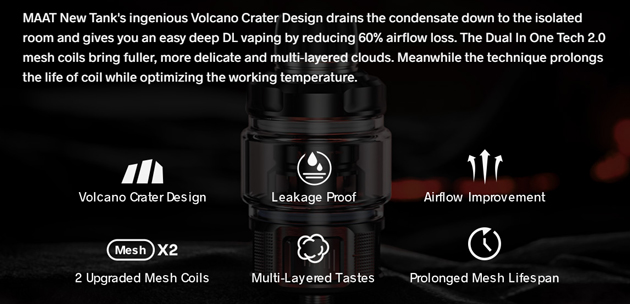 This new tank has a massive 6.5mL juice capacity with an easy top-fill method.  Adding e-juice is as simple as removing the top screw cap to expose dual-fill ports.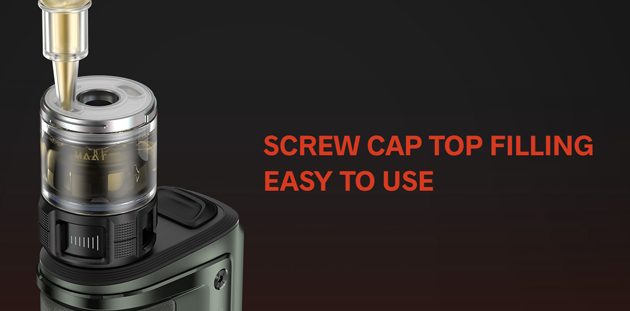 Features & Specifications
Design

Mod material: zinc alloy, soft leather, silicone
Argus MT Kit Dimensions: 145mm x 40mm x 30mm
Argus XT  Kit Dimensions: 148mm x 34.5mm x 37mm
Portable design
Holeless appearance
Full-color display screen
IP68 waterproof

Can be submerged in fresh water for up to 30 mins
Dust resistant

QS lock slider

Battery

Argus MT: 3000mAh internal cell
Argus XT: 18650/21700 battery compatible
USB-C charging port
Charging voltage: 5V/3A

GENE TT 2.0 chipset

Four modes: smart, turbo, TC, RBA (VW)
Output power: 5W to 100W
Temperature control: 200-600°F | 100-315°C
Atomizer resistance compatibility: 0.05Ω to 3.0Ω
Max output voltage: 8.5V
7 safety protections

Maat New Tank

Dimensions: 26mm x 52mm
Material: SS | Pyrex glass

High-temperature resistance
Corrosion resistance

Juice capacity: 6.5mL
Top fill system
Bottom adjustable airflow control
810 drip tip
510 connection
Volcano crater design

Leakproof
Improved airflow

TPP-DM coils

Fuller clouds
Longevity
Optimization of working temperature
Included: 0.2Ω DM2 | 40W to 60W
Included: 0.3Ω DM4 | 32W to 40W
Optional: 0.15Ω DM3 | 80W to 100W
Optional: 0.15Ω DM1 | 60W to 80W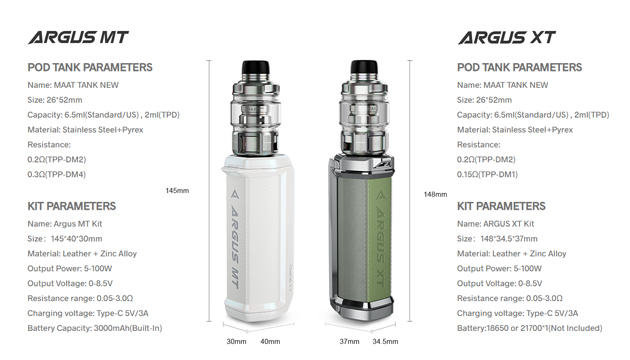 In The Box (Kit)
Argus MT or XT Box Mod
Maat New Tank
0.2Ω DM2 Coil
0.3Ω DM4 Coil
Type-C Charging Cable
Manual
Glass Container
Silicon Rubber Pack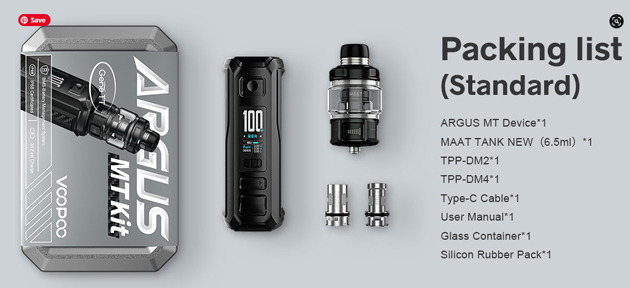 Similar Products
Total Views Today: 6 Total Views: 5,242