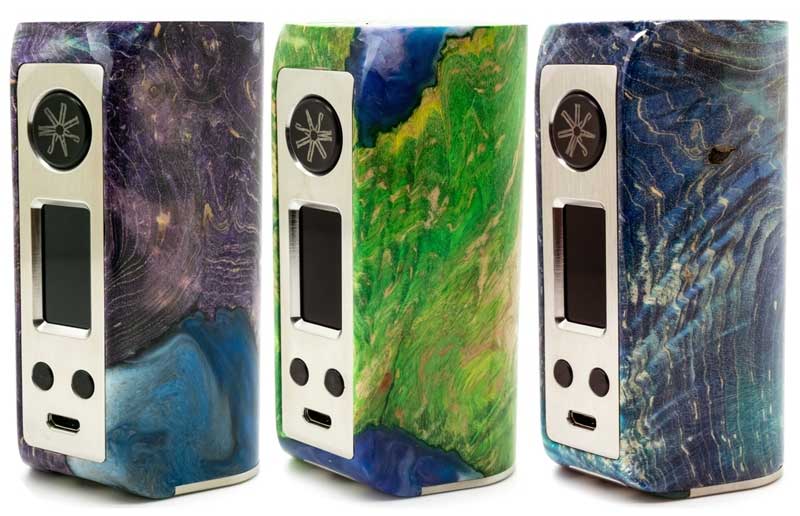 Here's a cheap deal for the Asmodus Minikin Kodama 21700 180W Mod, an updated and premium version of mods such as the Asmodus Minikin V1.5, Asmodus Minikin 3. The Minikin Kodama 21700 features a stabilized wood and resin chassis, multiple protections, 180 watts of power, dual 21700 support, power mode, temperature control mode, TFR mode, TCR mode, firmware updates and a myriad of protections.
Review
Overview
Made to ensure Asmodus released the highest quality and best-made device in the vape market place, the asMODus Minikin Kodama 21700 is quite different from other two-21700 battery box mods. The device has an incredible stabwood and resin chassis, an easy-to-use display screen with a crystal-clear menu, an advanced chipboard, and a plethora of operating modes such as power, TFR, TCR, power and temperature control. Ergonomic in the hand, the Minikin 21700 Kodama has a  trilateral contour that is shaped you own the most comfortable mod you have ever had. As was the case with previous Kodama mods, the battery panel is bottom-loaded and stays in place thanks to a hinge mechanism.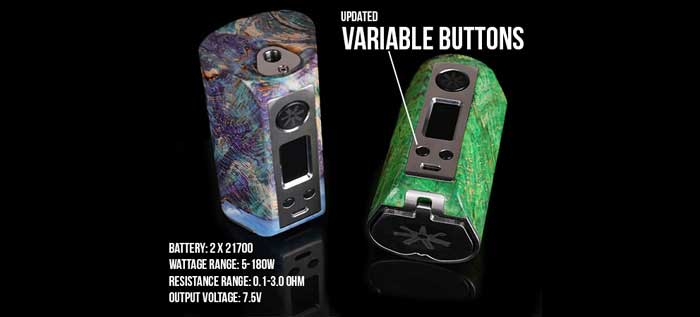 Because touch screens can be exasperating to work with,  Asmodus upgraded the adjustment buttons to have a more tactile feel for easy operation. And, just like other Asmodus mods, switching operating modes or changing display settings is performed via a simple combo of button presses. In the technical department, the asMODus Minikin 21700 has an identical chipset to the Minikin 2 , the GX-180tc-2. In addition to many operating modes, the chip further allows for the HD display screen and power efficiency.   Each user can also choose six different font colors and upgrade firmware via the micro USB port that doubles as a charging interface.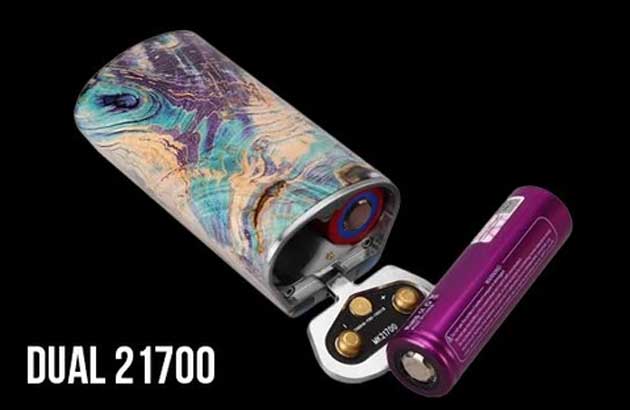 Features & Specifications
Intelligent GX-180TC Chipset
Battery: Dual 121700 batteries (must purchase separately)
Material: Stabilized wood, resin
510 Threaded Connection
Ergonomic
Full-Color Display Screen
Tactile Adjustment Buttons
Adjustable TCR and TFR Functionality
Programmable Wattage Curve Mode
Temperature Control Mode (Ni200, Ti, SS)
Accelerometer: Cycle Colors On Screen
Power Output Range (TC): 5.0-120.0W
Power Output Range (VW/Curve): 5.0-200.0W
Temperature Control: 212-572°F / 100-300°C
Temperature Control Memory Presets For Titanium, SS316, SS317, SS304, Ni200
Atomizer Resistance Capability: 0.1-3.0Ω
Safety Features: Protections: Short-Circuit, Reverse Polarity, High-Resistance, Low-Voltage, ESD, Low-Resistance,  Overcharging, Overheating, and Puff Cutoff
Related
Total Views Today: 1 Total Views: 1,027