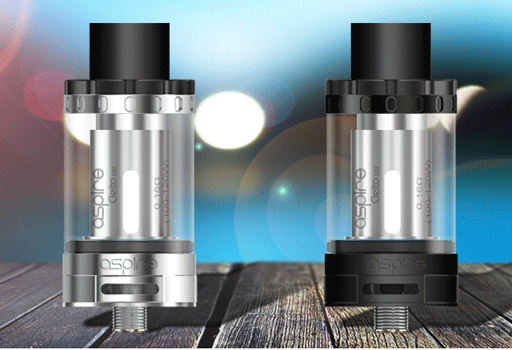 Here's some nice deals on the Aspire Cleito 120 Tank.  This tank is a high wattage device that is said to produce huge vapor.  If you would like to use the Aspire Cleito 120 as an RTA, please check out the RTA deck system here.
Overview
The Aspire Cleito 120 is nicknamed the "Maxi Watt" because it takes high powered vaping to a new level.  This device is said to be easily capable of 120 watts of power with adjustable airflow, massive vapor and amazing flavors.
The tank's dimensions comes in at 25mm x 58mm, is made of stainless steel shell with a pyrex glass tube and is available in either black or silver.  The device does look very similar to the Cleito, but this one is built with a larger chimney, bigger airflow and it includes a wider drip tip.  With purchase, you'll also get vape bands that have an amazing look and protect the tank tube from damage, if dropped.
The unit is rated at 120 watts of power, but is said to easily handle upwards of 160 watts.  The Cleito 120 should be used only if you are a high wattage vaper.  If you prefer a lower power level, under 100 watts, you should pick up an original Cleito.
The tank capacity of the device comes in at a reasonable 4ml and is refilled in second by unscrewing the top cap and inserting juice into the large fill hole.
The unit's airflow system has also been redone and is said to result in instantaneous vapor production.   Even if you draw the tank for only a couple of seconds, it will already result in a huge vapor cloud.  And, larger wick holes ensure the tank performs without a problem even with continuous vaping.
Overall, the Cleito 120 is said to be an amazing tank for those who enjoy high wattage vaping with huge vapor and amazing flavors.
Video Review
Features & Specs.
Dimensions: 25mm x 58mm or 0.98″ x 2.28″
Weight: 75g or 2.65oz
Stainless steel shell with pyrex glass
Tank capacity: 4ml
Top fill setup
510 threaded connection
Adjustable airflow control
Best with max 120W of power but can handle 160 watts or higher
Can be completely disassembled
0.16Ω coil head rated at 100W to 120W
Total Views Today: 1 Total Views: 140