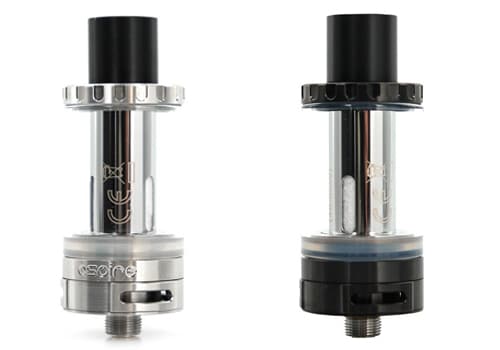 Check out this amazing deal on the awesome Aspire Cleito Sub Ohm Tank.  
Overview
The just released Aspire Cleito may be another revolution in the sub ohm tank market.  It features a completely new design which combines the chimney and coil to solve the problem of structure limitation in producing vapor.
The Cleito has an amazing finish and is constructed of 304 stainless steel body with Pyrex glass tube.  Since this is the full kit, it includes 4 rubber colored cuffs in yellow, black, blue and red.  Customize the look according to your preference!
From a technical perspective, the tank has a brand new coil design which doubles as the chimney.  This reduces the problems with airflow restriction that is found in tanks with static ones and enhances flavor and vapor production.
There is no need to remove the Cleito from the mod in order to refill as it is top fill capable.  Just unscrew the top of the device and add e-liquid.
Overall, Aspire designed the Cleito to further improve flavor and produce massive vapor clouds.   Because vapor is produced within the Cleito coil itself, this device allows for a drip experience in a sub ohm tank setup.
Check out more about the Cleito on Aspire's website
Features
3.5ml e-liquid capacity
Black or stainless steel
Stylish finish
Tempestuous airflow
The smallest cross section of the airflow is 25.5mm²
Drip experience in a tank
Massive vapor production
Improved flavor
Wide bore Delrin drip tip
Brand new coil design
0.2Ω (55-70W) /0.4Ω (40-60W) coils
Chimney is in the coil
Corlorful rubber cuffs included
Cleito's RTA will soon be released
Video Review
Total Views Today: 1 Total Views: 169