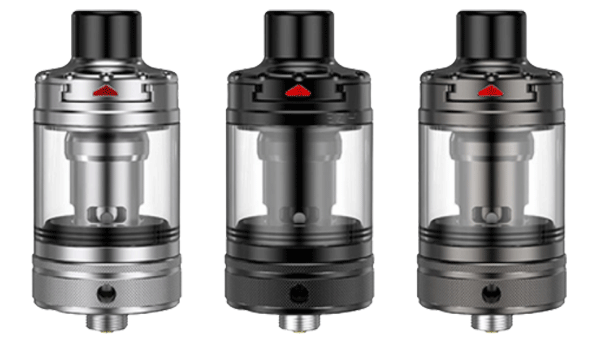 Check out these cheap deals for the Aspire Nautilus 3.  It features a 4mL juice capacity, easy top fill system, multiple airflow adjustments, a mesh coil option, a BVC coil, and compatibility with most previous Nautilus coils.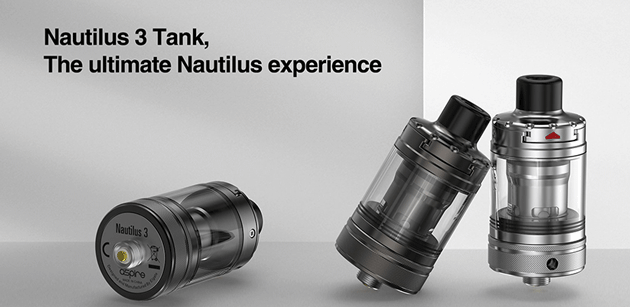 Review
Timeless Design
The Nautilus 3 Tank is the follow-up to the Nautilus X, but the new tank looks nothing like any of its predecessor.  In fact, the new device features  a retro appearance that incorporates accent lines to make it stand out.  And, the tank adopts classic colors only such as black, stainless steel, and gunmetal.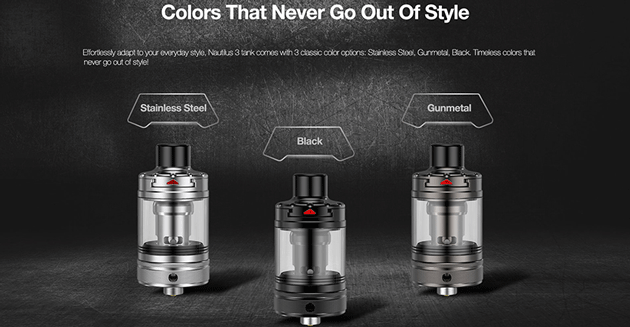 Seven Airflow Options
The tank has a single intake hole that can be adjusted to 7 different configurations.  Options for the size are 0.8mm, 1mm, 1.2mm, 1.5mm, 1.8mm, 2.5mm, and 3mm.  Airflow is said to be precise for intense flavor and dense vapor. And, the internal airflow features a smooth air path to the coils for fast vapor production.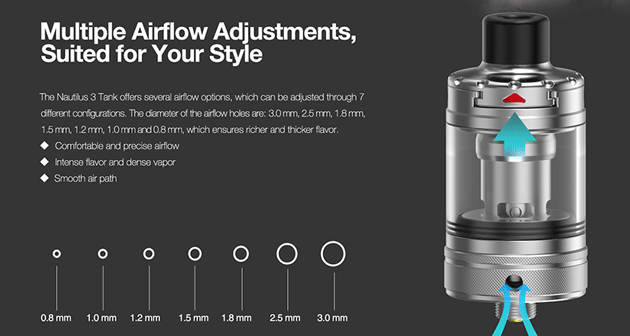 Nautilus Coils
With the purchase of the Aspire Nautilus 3 tank, you'll receive 2 coils.  The first of these is a Nautilus 2S Mesh Coil with a 0.7ohm resistance and a 20 to 25-watt range.  Or, you may swap that one for the included Nautilus BVC coil that is ideal for nic salts with a mod that fires at 10 to 14 watts.  Best of all, you can also utilize any Nautilus coil which means there are a total of 6 compatible coils.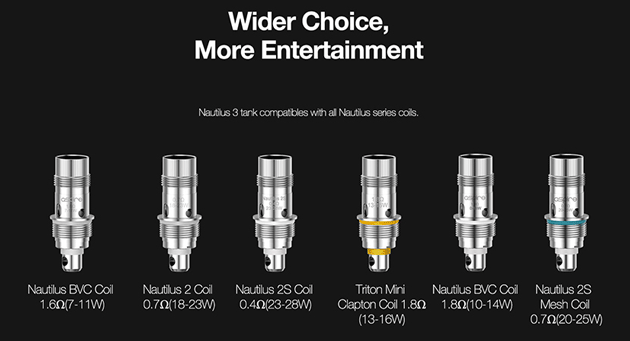 The atomizer also uses an easy push/pull method to install the coils which makes replacement quite simple.  Moreover, the design incorporates an e-liquid shutoff valve to stop juice from entering the chamber while you are swapping the coils out to entirely prevent an e-juice mess.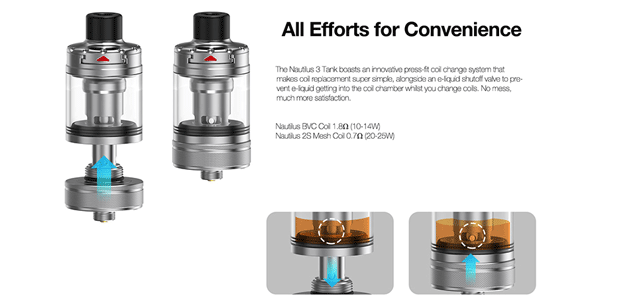 4mL E-Liquid Capacity
The Nautilus 3 Tank can be filled with up to 4mL of e-liquid which is not bad for a compact tank without a bulb-style reservoir.  Moreover, the design incorporates a top cap that slides over with the press of a button for easily adding vape juice on the go.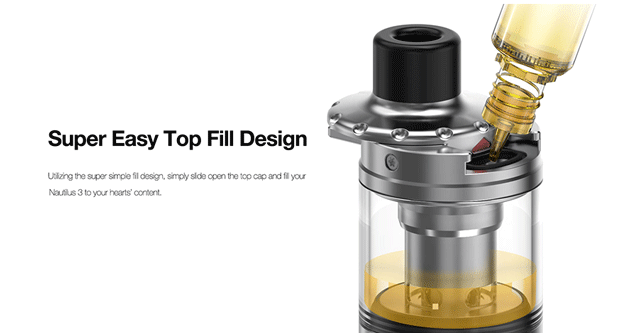 Features & Specifications
Dimensions: 24mm x 48.5mm
Classic design
Colors: black, SS, gunmetal
510 threaded connection
4mL juice capacity
Sliding top cap refill system
Works with all Nautilus series coils

Included: Nautilus BVC Coil 1.8Ω
Included: Nautilus 2S Mesh Coil 0.7Ω (Pre-installed)

Push/pull coil installation
E-liquid shutoff valve activates when swapping coils
7 airflow options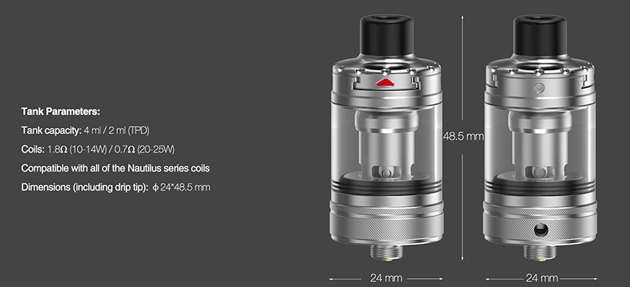 Similar Products
Total Views Today: 1 Total Views: 990