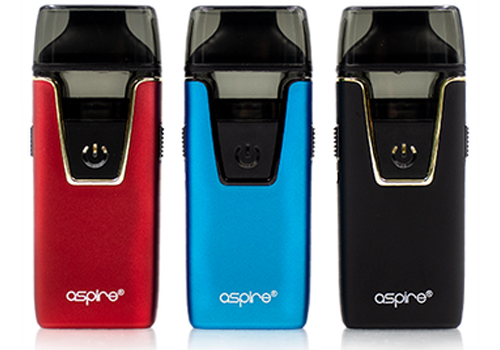 Here are cheap deals for the Aspire Nautilus AIO Pod Starter Kit.  This new kit features refillable 4.5ml pods, 1.8ohm coils for use with nic salt based e-liquids, adjustable airflow, an efforltless bottom airflow system, a 1000mAh integrated battery, a battery LED and micro USB charging.
Overview
The Nautilus Kit is slim and stylish and is available in blue, jade, black, silver, purple and red. The measurements of 87.5mm x 37mm x 21mm also make it portable and easy to place in the pocket.
The Nautilus AIO consists of two sections: the mod and the cartridges (pods) which are inserted into the mod. What's unique about the pods is that they are made with a massive 4.5ml capacity which is the highest capaicty in the vape market place. Refills are done by removing the pod from the battery section, removing the silicone stopper that hides a juice port and squirting more juice thru the fill port.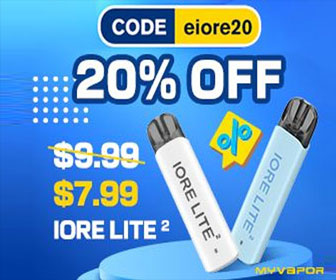 Inside the refillable pods, you will find coils that are also replaceable which will save money in the long run. There are two heads included with purchase. The first is the regular Nautilus BVC coil whhich is rated at 1.8ohm, has a 10 to 14 watt firing range and should be used with regular e-liquids. For those who prefer nicotine salt based e-liquids, there's the included BVC coil for nicotine salt and it also has a heating element that fires with a resistance of 1.8ohm in the range of 10 to 12 watts. Installing this coil is done by removing the pod, removing the chimney to easily swap it out. It is advised to wait at least 3 minutes after filling to let a new coil become saturated.
To ensure people can get the exact vaping experience they enjoy, the Aspire Nautilus AIO Pod Kit also has an adjustable airflow system at the bottom of each pod. The mod of the Nautilus is built with a 1000mAh integrated battery which should last a while without a charge as the coils only fire with a maximum of 14 watts of power. This cell's charging level can be seen via the color of the LED on the power button. And, charging the battery is a simple as plugging one end of the included micro USB cable into the side of the mod and the other side into a suitable micro USB power supply.
With purchase of the Nautilus AIO device, you will also receive the two previously mentioned coils, 2 extra o-rings, an extra silicone plug, a micro USB cable, a warranty card and a manual.
Nautilus AIO Pod Kit Features & Specifications
Dimensions: 37mm x 21mm x 87.5mm
Slim and portable
Colors: blue, jade, black, silver, purple, red
Refillable pods
Massive 4.5ml capacity (2ml for EU customers)

Bottom silicone plug
Easy refills
Large juice port

Coils (included)

1.8ohm BVC for regular juice | 10W to 14W
1.8ohm BVC for nic salt | 10W to 12W

Bottom adjustable airflow system
1000mAh integrated battery

Micro USB charging
Battery LED
Cable included
Total Views Today: 1 Total Views: 849