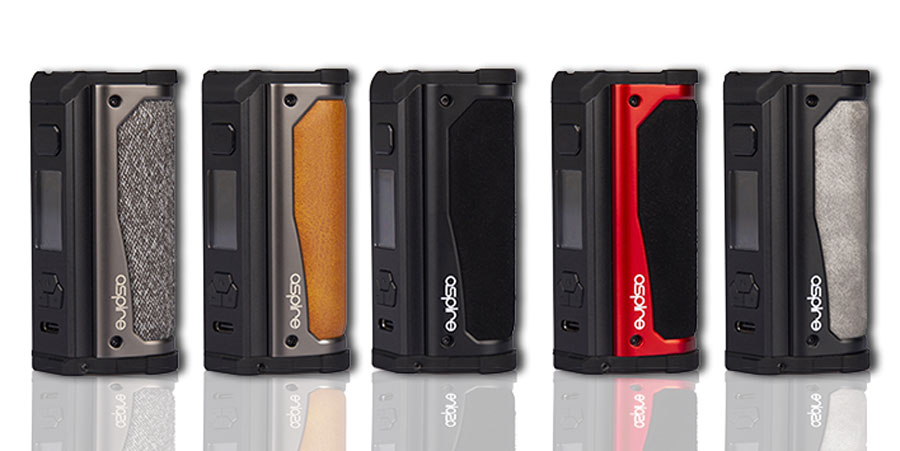 Aspire Rhea: Shockproof 200W Temperature Control Box Mod
Here are cheap deals to buy the Aspire Rhea Mod. It features a tough, armored design, dual 18650 batteries, a color display screen, a Type-C charging system, a full-color customizable display, a unique mode selection button, and tons of operating modes including bypass, TC, TCR, and variable wattage.
Coming Soon  
Erogonomic Yet Tough Design
The Rhea Mod utilizes materials such as zinc alloy that are both soft to the touch, yet tough.  This means when you hold the device in your hand, it will feel pleasurable, but dropping it won't cause damage.  Moreover, the material is  highly resistant to scratching and general wear-and-tear
.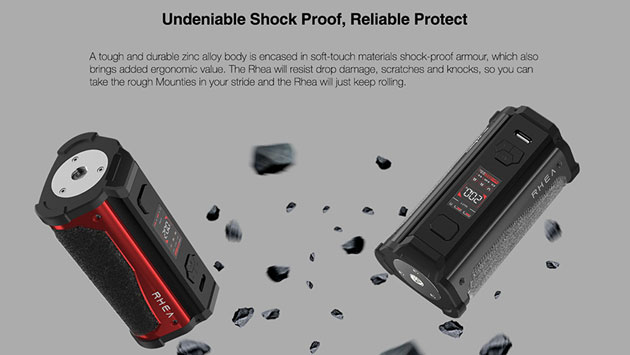 In fact, the fusion of metal and leather is said to reduce hand fatigue, yet the strength of the chassis makes it ideal to take anywhere, including most outdoor environments.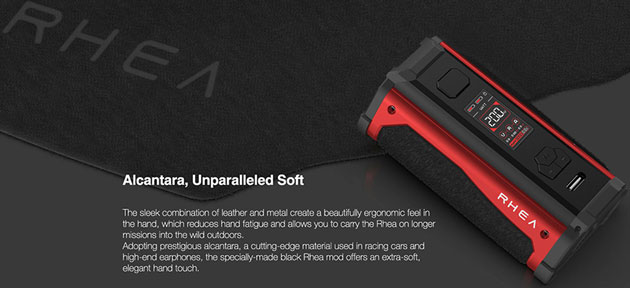 When you look at the components of the Aspire Rhea, you can immediately see a new mode button that makes it easier than ever to switch between different vape options.  In the same group of buttons on the control face, there are also two adjustment buttons that navigate a 0.96 inch TFT display screen with crystal clear user interface. On the screen, you will see data such as the battery charge level, the current wattage, current mode. You may also change the color scheme of the UI to magenta, green, orange, red, or blue or adjust the brightness.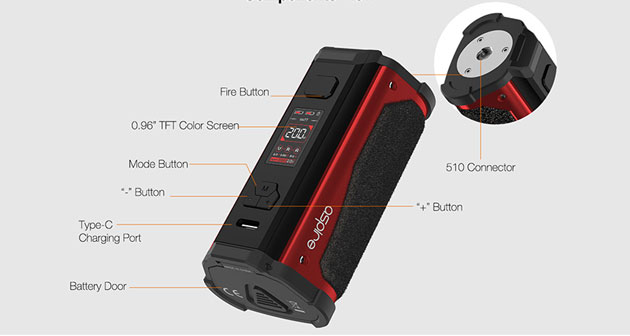 At the top of the box mod, there's a 510 bezel that is sure to work with most of the atomizers in your collection.  You see, it is compatible with atomizers up to 28mm in diameter without overhang.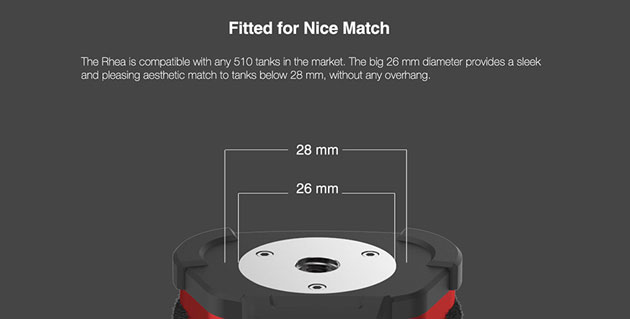 Six Operating Modes At 200 Watts Of Power From Two 18650 Batteries
Unlike similar devices in the vape marketplace, the Rhea has a plethora of mode options including wattage, variable wattage, bypass, temperature control, TCR, and CPS.  This makes the device highly versatile since you can customize the vape style to your liking.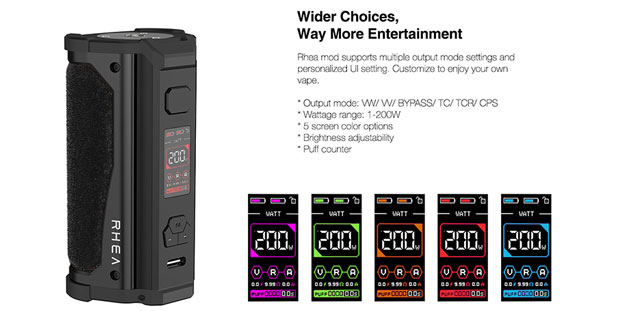 Powered by two 18650 batteries, the Aspire Rhea Mod should permit prolonged vape times by reducing the necessity of recharges.  Moreover, recharging is lightning-fast thanks to a Type-C 2A charging port that has as a secondary benefit that it is easy to insert.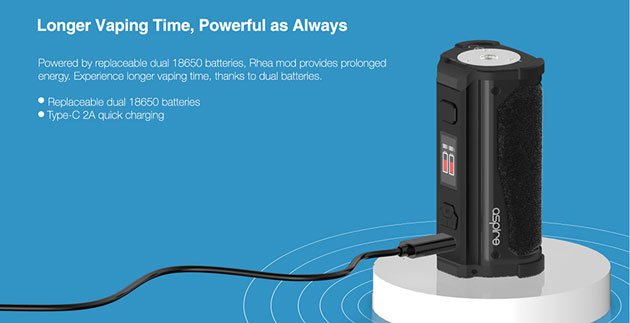 And, for safety reasons, the device integrates tons of protection features into the proprietary ASP chipset.  This means you'll never worry about accidental firing, short circuits, overheating, low voltage, overcharging, over-discharging, or if you accidentally put the batteries in the wrong way.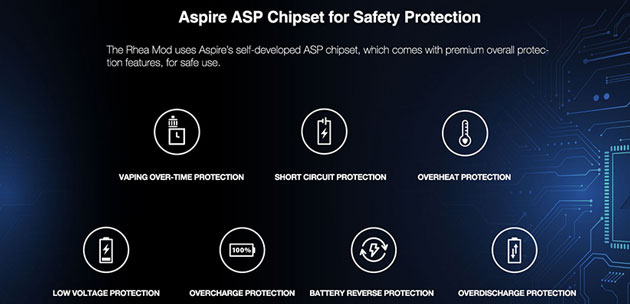 Aspire Rhea Features & Specifications
The mod has dimensions of 89mm by 47mm by 38mm and weighs 208.5 grams.  For power, the Rhea uses dual 18650 batteries for up to 200 watts of output and can be set to these modes: W/VW/Bypass/TC/TCR/CPS.  Recharging the batteries takes place by way of a 2A Type-C port.  The temperature range is from 100 to 315 degrees Celsius and compatible atomizers should have a resistance of 0.10Ω and above. Please check the graphic below for additional specifications.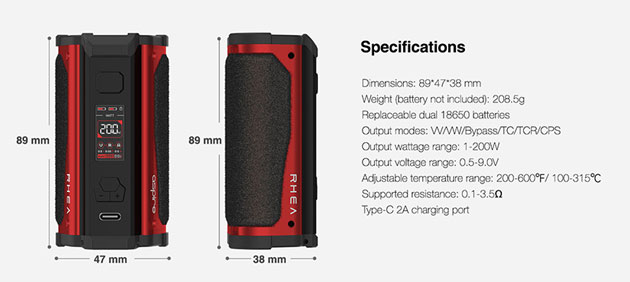 Package
With purchase, you will receive the mod, a Type-C charging cable, and a manual.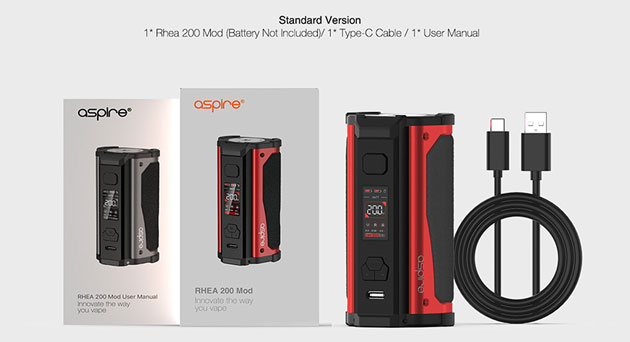 Related
Total Views Today: 1 Total Views: 258