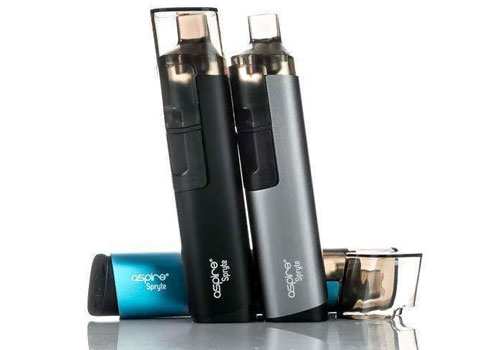 Here are cheap deals for the Aspire Spryte Kit.  This new pod kit features a stylish satin finish, bright colors, 3.5ml refillable pods, an easy fill system, adjustable airflow, a 650mAh integrated battery with USB charging port and two different BVC coils, one for regular juice and one for nic salt e-liquids.  Very reliable and also a big juice capacity…
Video
Overview
The Aspire Spryte is the latest in the long line of pod kits that feature refillable cartridges. The Spryte is actually unique in that its refillable pods can hold up to 3.5ml of e-liquid, unless you are in the European Union, in which case the capacity is 2ml due to regulations. The pods are refilled via a bottom fill system. Adding juice involves removing and turning the pod upside down, taking off the silicone plug behind which there's a hidden juice port that you squirt juice into. Another unique aspect of the Aspire Spryte is that it is one of the first pod kits to feature airflow that is adjustable via a knob at the bottom of each cartridge. In this way, you may get the vape experience you really like.
Saving you money is the fact that the Spryte works with replaceable coils, so there is no need to continuously buy new pods. Two types of coils are available. The first is a regular BVC coil that fires with a 1.8ohm resistance for use with regular e-liquid and a 1.2ohm BVC coil that is specifically made for nicotine salt based vaping. Each head utilizes nichrome heating elements.
The Spryte's pod inserts into the bottom battery that has a 650mAh capacity and features flashing blue LED lights if the cell has plenty of charge left or it will blink red when it is time for a recharge. To recharge the cell, simply plug the unit into any USB outlet with an included cable. With a full charge, the Spryte will put out up to 12 watts of power. Design-wise, the Aspire Spryte Pod Kit features a minimalist design and will fit well in the pocket or purse thanks to dimensions of only 26mm x 26mm x 108mm. The satin finish feels comfortable in the hand and is available in olive green, grey, black, blue or pink.
Spryte Kit Features & Specifications
Dimensions: 108mm x 26mm x 26mm
Satin finish
Color: olive green, grey, black, blue, pink
Portable and slim
Protective top cap
Refillable pods

3.5ml capacity
Bottom fill system with silicone plug

Adjustable airflow control at bottom of pod

650mAh integrated battery
Battery LED
Micro USB charging
Max wattage on full battery: 12W

BVC coils

Nichrome heating elements
1.8ohm  coil for regular e-liquids
1.2ohm coil for nic salt e-liquids
Pictures
Total Views Today: 1 Total Views: 319