The deals we post on this page are for the Aspire Veynom LX Kit or Aspire Veynom EX Kit.  They produce 100 watts of power, but the LX has an integrated 3200mAh battery, while the EX works with a single 18650, 20700, or 21700 battery.   Available in six colors, both have many modes, including temperature control, a 0.96-inch color screen, an LED light surrounding the fire button, a manual off/on switch, airflow control, BP series coils, and a 5mL juice capacity with a top-fill system.
Veynom EX or LX Pod System Overview
As previously mentioned, the Aspire Veynom EX and LX kits are almost identical, except the LX with integrated battery is slightly smaller.  The appearance for both looks modern with curved corners that make it look modern in six colors: black, blue chrome fade, silver, gunmetal, teal purple fade, gold pink fade, metallic fade, and rainbow.  Surrounding the button, there's also a bright LED that produces customizable lighting effects in six colors.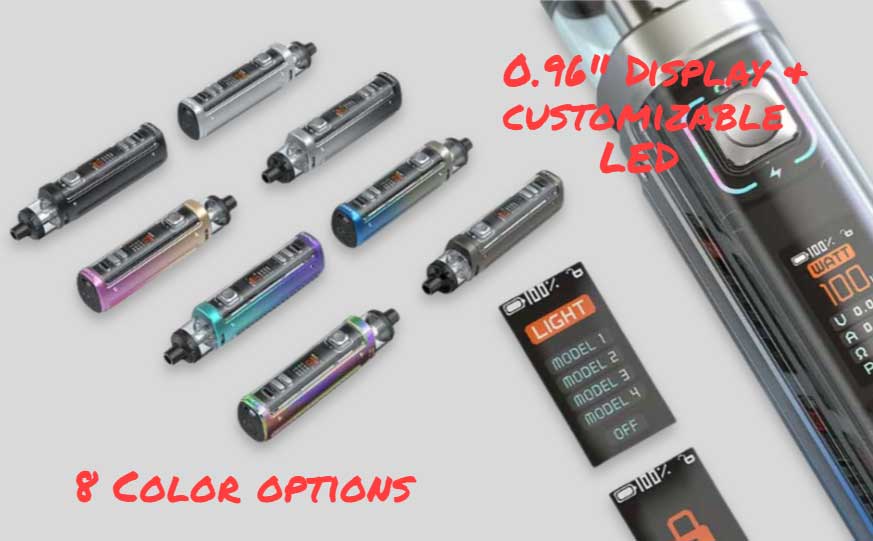 Looking closely at the technical specifications, we are impressed that these small kits feature various versatile operating modes: variable wattage, variable voltage, temperature control, bypass, auto, and CPS.  Changing the mode setting and output occurs via a 0.96-inch display screen with an easily-navigated UI with two adjustment buttons.   Power tops at 100 watts, and temperature control ranges from 100 to 300 degrees Celsius.  Recharge the battery using the USB-C port at the bottom of the control face that works with a lightning-fast 2-amp current.  And turn the device off or on by flipping a physical switch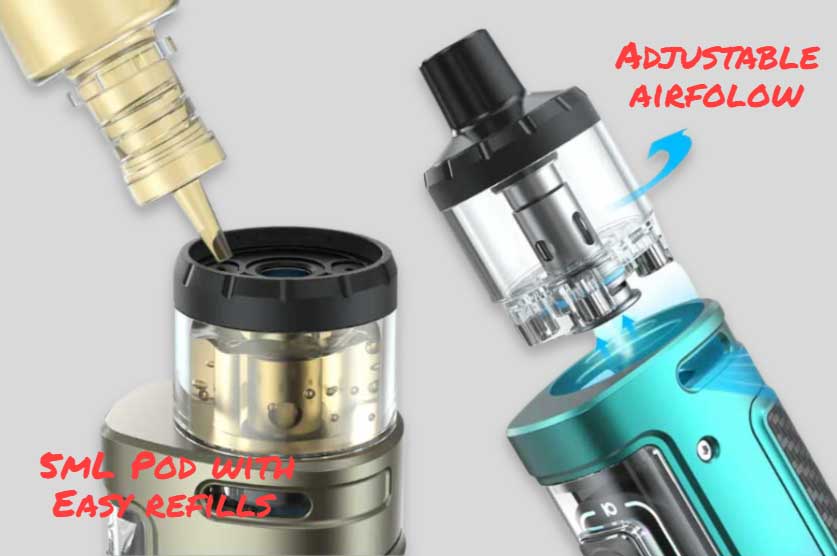 Compatible with BP meshed coils, the 5mL cartridge is also remarkable as it delivers an effortless top-fill method that involves removing the top cap, revealing two adequate juice ports. It is unknown which coils are included at the time of this writing, but we assume you'll get a BP Pro Meshed Coil that works from 80 to 100 watts and a 60 to 80-watt BP meshed coil.  Both have a 0.15ohm heating element, so only use with freebase vape juices.  Overall, we believe the Veynom LX and EX will be popular because they look amazing, are portable, pack a punch, and have versatile operating modes.
Features & Specifications
LX Dimensions: 129.6mm x 34mm x 28mm
EX Dimensions: 138.5mm x 29 x 35.5mm
Small & portable
Colors: Silver, Gunmetal, Black, Chrome Blue Fade, Teal Purple Fade, Gold Pink Fade, Metallic Fade and Rainbow
Modern appearance
Battery

EX: 18650, 20700, 21700
LX: Integrated 3200mAh
2A USB-C charging system
Cable included

6-Color customizable LED surrounding the fire button
0.96″ full-color display
Power range: 1W-100W
Voltage range: 0.5V-9V
Operating modes: power, bypass, voltage, temperature control, CPS, auto
Safety protections

Over-voltage
Overcharging
Low voltage
Overheat
Short circuit
Overtime

5mL cartridge
Top-filling system
Works with all BP Mesh coils

Long coil life
High-temperature resistance
Increased flavor production
Dense clouds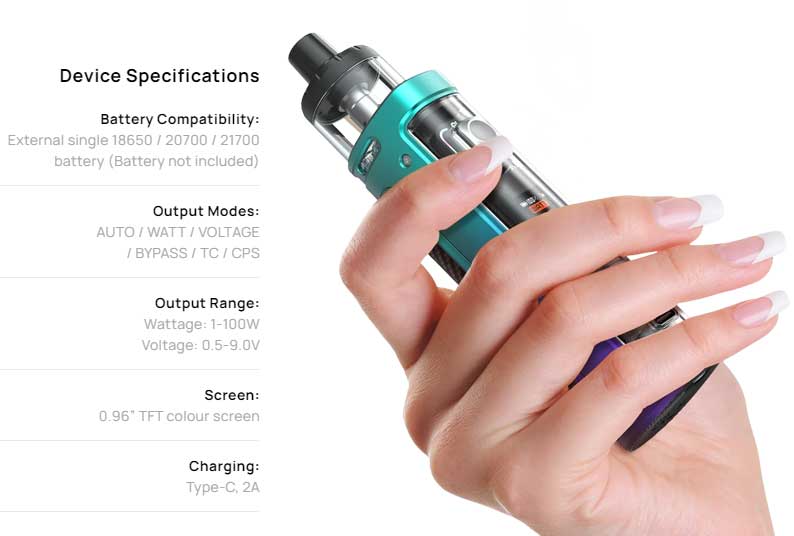 Total Views Today: 1 Total Views: 68