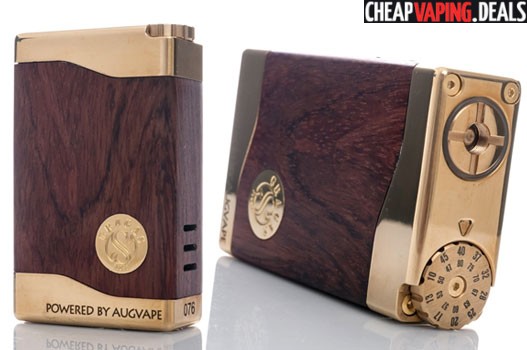 Overview
The Augvape Gragas 80W Box Mod features an amazing screenless wood with brass design, features 80W of output power and is adjustable via a ridged knob at the top.
This mod is absolutely stunning with a Bubinga hardwood hardwood with brass-framed chassis.  Each Gragas is completely unique because wood patterns and grains can never be completely the same.   The device is screenless so controlling the wattage is done by the knurled dial which can be found opposite the brass spring-loaded 510 connection. The knob that operates the power output features outer and inner indicators to make wattage control easier than ever.  And, the fire button is located on the side of the device and is encircled by three alternate LED lights that provide information on battery levels.
The Gragas is built with a Pivape's PV052 chip set, is capable of 80 watts of power and can fire all the way down to a resistance of 0.05Ω.  The device uses two 18650 batteries that are installed in parallel for longer operation without recharges.  Batteries can be accessed by removing the durable brass discs at the bottom or you can plug the mod into any wall outlet via the USB port to top off the cells.
Video
Features
Exotic Bubinga wood chassis
100% brass top and bottom
Ridged brass wattage control knob
Brass 510 connection bezel
Spring-loaded center pin
Three color LED for battery status
PIVAPE PV052 chip
Minimum resistance: 0.05ohm
Power range: 10W to 80W
Maximum output current: 40A
Maximum output voltage: 7.2V
15 minute sleep mode
Overpuff time protection
Lock device
Powered by dual 18650 battery cells installed in parallel for long battery life
Easy battery access by removing two discs on bottom
1A USB charging
Low voltage protection
Short circuit protection
High resistance protection
Low resistance protection
Reverse polarity protection
Overheat protection
Overtime protection
Total Views Today: 1 Total Views: 112