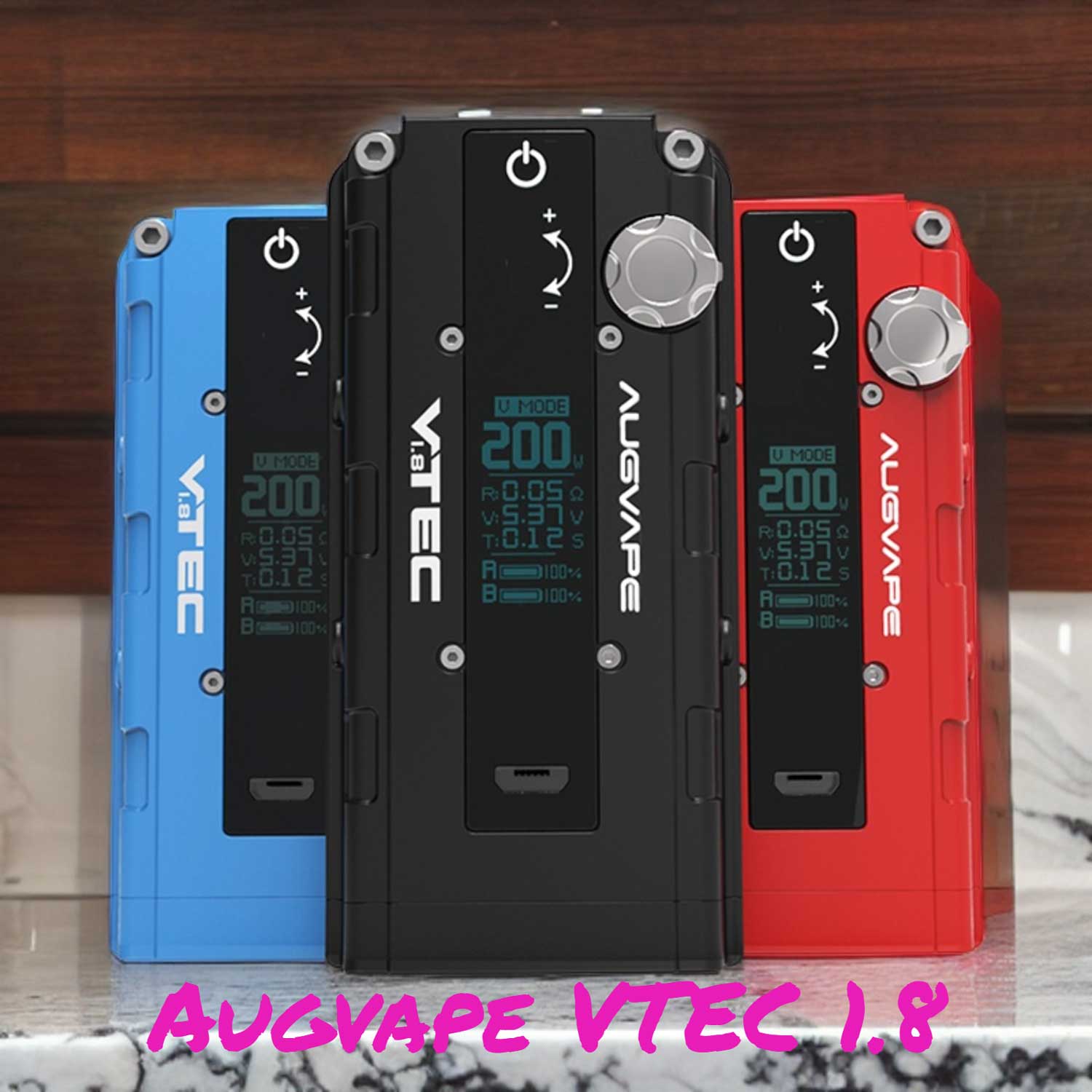 Augvape VTEC1.8: Engine Themed Dual 18650 200W Mod
The VTEC1.8 by Augvape is the upgraded version of the 200W V200. The new device features an almost identical VTEC B18C Type-R engine theme as its predecessor,  200 watts of output, a new variable voltage mode, an updated battery panel, a decorated leather strip, a more ergonomic design, a hidden fire button, and dual 18650 battery support with micro USB charging port.  This mod is outdated, so check other 200-Watt Box Mods.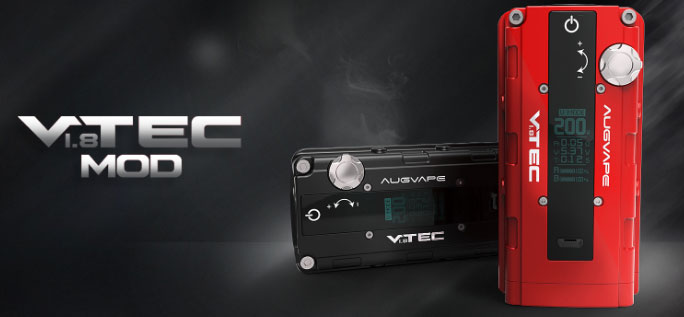 VTEC Engine Design
If you see an image of a VTEC B18C Type-R engine, you will be surprised that the Augvape VTEC 1.8 has an almost indistinguishable appearance. This unique device is available in blue, red, or black and is constructed with zinc alloy. For a 200-watt mod, the dimensions are also decent at 87.5mm x 45.0mm x 29.2mm.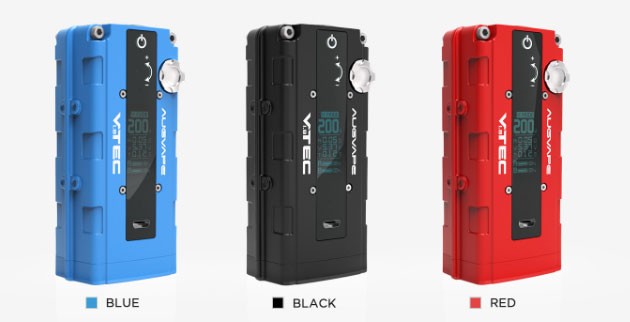 Ergonomic Leather Strip
On the back of the mod, you will find a premium leather strip to permit a more ergonomic hand feeling.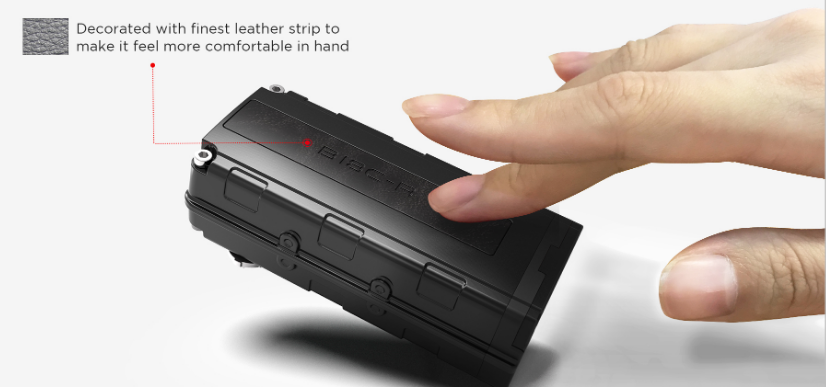 Components
On the front of the VTEC1.8, there's a display screen with a user interface that shows indicators in blue font on a black background.  Vape data on the menu is vertically oriented, and indicators include current power, atomizer resistance, current voltage, puff duration, and two battery bars. On the top right, you'll see an "oil cover" wheel that permits effortless menu navigation.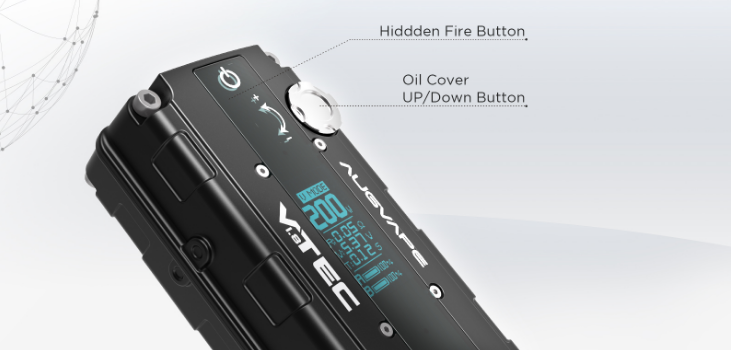 At the top of the mod, you will find a protruding 510 that enhances airflow thanks to air grooves.  Above the display, there's a hidden fire button, and at the bottom of the control face, a micro USB port to recharge the cells in the battery bay.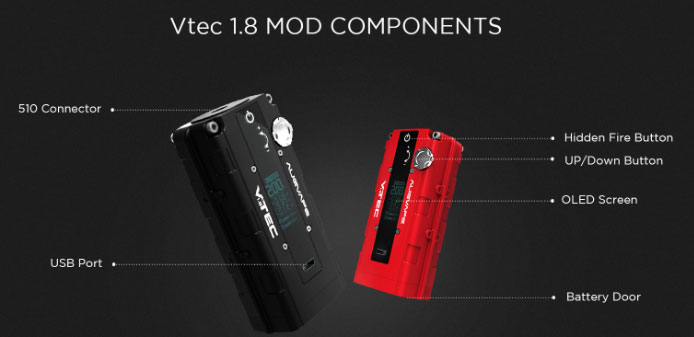 Updated Software
Compared to its predecessor, the VTEC 1.8 features a newly installed operating system that permits variable voltage operation for a more personalized vape experience. Other modes include voltage, bypass, and auto modes.

Reinforced Battery Door
The device utilizes dual batteries, accessed via a bottom battery panel. This door has been reinforced to be stronger and has a new design to make it easier to slide open or closed.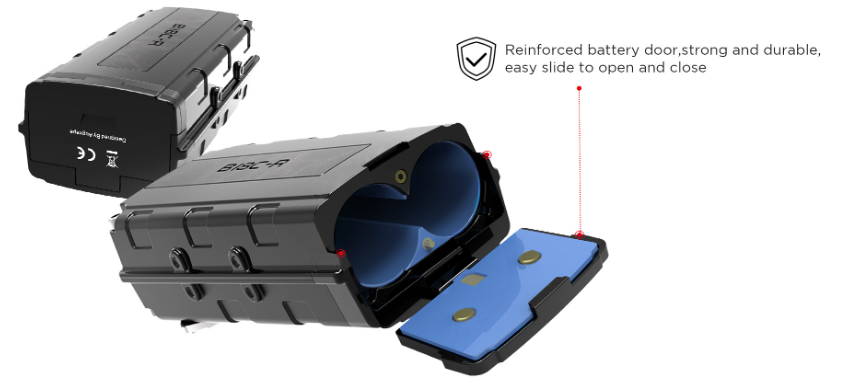 Dual Battery Life Indicator
The VTEC 1.8 Box Mod uses dual 18650 cells of which the charge level can be easily monitored by dual bars at the bottom of the display screen. This functionality is said to be accurate.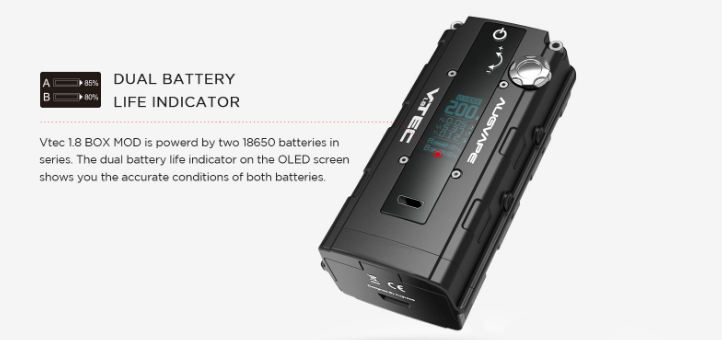 200 Watts Of Power
As previously mentioned, this device operates in auto mode, voltage mode, variable voltage mode, or you may utilize it as a mechanical mod in bypass mode.  The VTEC1.8 can fire at a maximum of 200 watts, and the chipset permits almost instantaneous firing.  Atomizer compatibility comes in at a low 0.05 ohm.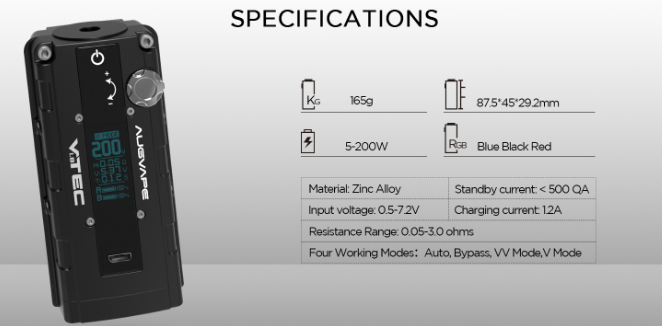 Features & Specifications
Measurements: 87.5mm x 45mm x 29.2mm
Zinc alloy body
Engine themed
Colors: red, black, blue
Ergonomic leather strip
510 threaded connection
Unique adjustment "oil cover" button
Hidden fire button
0.96″ OLED display
Operating modes: Auto/bypass/voltage/variable voltage
Powered by dual 18650 batteries
Micro USB charging port: 1.2A
Standby Current: < 500 QA
Input Voltage: 0.5V – 7.2V
Atomizer compatibility: 0.05Ω – 3.0Ω
In The Box
Vtec 1.8  Mod
USB Cable
Manual
Warranty Card

Total Views Today: 1 Total Views: 742