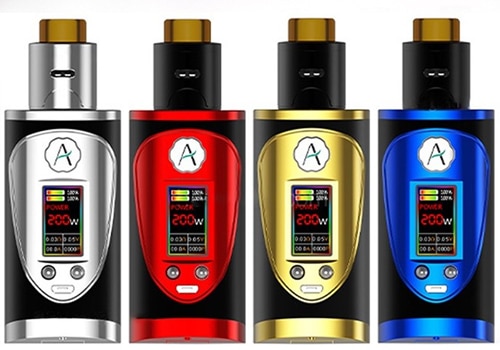 Avidvape Throne Squonker Kit
Update: The
Avidvape Throne Squonker Mod or Kit
Has Been Discontinued – Check  Newer 200W Box Mod  Deals Below
Or
All Mod/Kit Deals
The Throne Kit features 200 watts of power, a multitude of modes including power/bypass & temperature control, a 0.96 inch full color display, an 8ml capacity juice bottle and an RDA.
Design
Design wise, the Throne Mod is portable/ergonomic thanks to dimensions of 82mm x 41mm x 47.5mm and looks exquisite with available colors that include black/blue, black/gold, black/red and silver/black. What stands out is the control face on the front which has a beautiful Avidvape engraving, a full color display, two adjustment buttons and a micro USB shield encircled by a shield-shaped face plate. The display measures 0.96 inch and has a full color vertical menu that has indicators for current mode, current power/temperature output, resistance, amperage, voltage, puffs, two battery bars and more. Inside the mod, you will find an 8ml squonk bottle that allows for easy refills and should permit long vaping times. The bottle connects to the RDA at the top via a BF 510 atomizer bezel.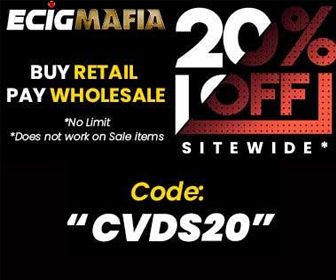 200 Watts of Power & Temperature Control
Technically, the Throne Squonker Mod utilizes dual 18650 batteries that can be topped off by plugging the unit into any micro USB outlet. Operating modes for this device are also versatile and include power mode, bypass mode, temperature mode with stainless steel/nickel/titanium as well as a VPC mode which we assume is a variable power curve mode to engage in ramp vaping. The max power output is a whopping 200 watts which is very high for a squonker mod. Temperature control can take place in the range of 200 to 600 degrees Fahrenheit and atomizers with a resistance of 0.05ohm or higher are compatibile.
Throne RDA
Also included in the Avidvape Throne Kit is the Throne RDA which measures 24mm x 32mm, is made from stainless steel and comes with an 810 drip tip. This rebuildable dripping atomizer features a dual post deck that measures 24mm across. Not much more is known about the build deck, so we will update the information here as it becomes available. At the bottom of the Throne RDA, there's a BF 510 connection pin which will allow it to perfectly connect with the Throne Squonker or any other squonk mod in the marketplace.
Throne Squonker Kit Features & Specifications
Throne Squonker MOD
Made from zinc alloy and aluminum alloy
Dimensions: 82mm x 41mm x 47.5mm
Full color 0.96″ display
Power output range: 5W to 200W
Resistance Range: 0.05 to 3.0ohm
Temperature range: 100?-315? or 200?-600?
Operating modes: Power/ Bypass/TC ( NI/ TI/ SS) / VPC
Utilizes dual 18650 batteries
Micro USB charging system
510 threaded BF connection bezel
8ml capacity juice bottle
Throne RDA
Measurements: 24mm x 32mm
Made from stainless steel
24mm dual post build deck
810 drip tip
Squonk 510 pin
Total Views Today: 1 Total Views: 89