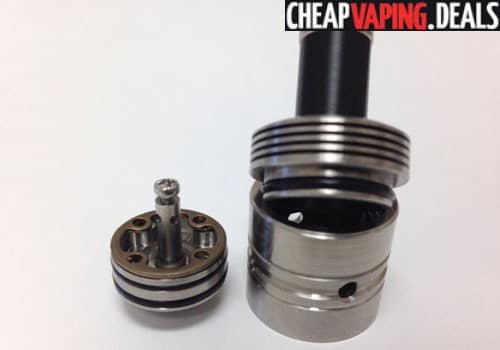 31

Here's a blowout deal on an original 454 Big Block RDA By Kryptonite Vapor.
USA warehouse:
$4.75

 Use coupon code 101VAPE 

at checkout
Overview
The 454 Big Block has been quite popular, but very pricey.  But now you can get one really cheap, just $9.99. The rebuildable atomizer features very durable materials and an amazing design.  And, it is 100% made in the United States.
The device has a top cap which can be removed for easy rewicking.  It's cooled via an air fin to prevent burning of the lips.  With a direction flow outer cap and adjustable airflow, you can line up a wide range of hole configurations to create massive vapor production.
The whole outer part of the atomizer is a negative post.  You can secure the wires via the removable stainless steel ring.
The unit has a massive juice well which features an alignment lip for easy centering of the coils.
The 454 also features an Ultem insulator which is food safe to withstand high temperatures and ensure healthy vaping.    The material  is also very stable and can take 400% more heat than Delrin substances.  The Delrin drip tip is also insulated and has a beautiful stainless steel  accent at the top.  The tip features a one of a kind side vent to stop spit back and create vortex airflow inside the cap. A conical top also ensure maximum flavors.  A drip rail is also included to stop juice spray back on the wicks and vent holes.
The deck features a single post design with .06" holes to be compatible with any size wire or build. The center post is manufactured from solid copper to create optimum electrical conductivity.
Video Review
https://www.youtube.com/watch?v=YLtLZQGvllA
Total Views Today: 1 Total Views: 63