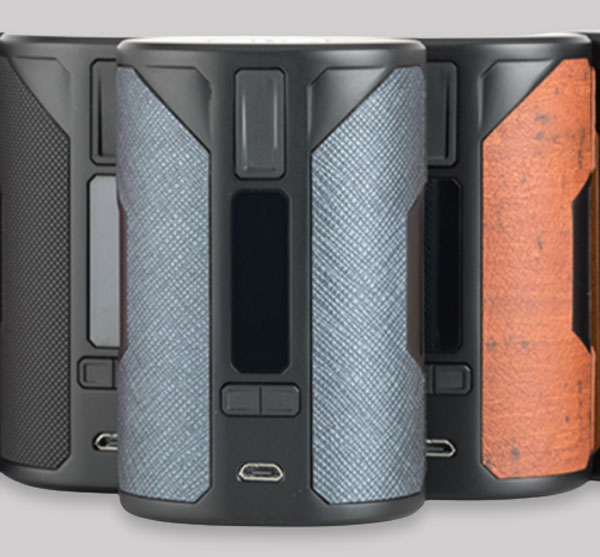 Check out these cheap deals for the S-Body C3D1 Mod.  It features a comfortable design, triple 18650 batteries, and a DNA 250 chipboard known for reliability and preciseness. Update: this mod is old, so check newer DNA250C Mods.
VapeDroid C3D1 Overview
From a design perspective, this DNA 250 box mod was designed to be ergonomic and comfortable to hold in the palm.  This is mainly thanks to special anti-slip panels on both sides that can be swapped out for a new look.  Utilizing triple 18650 batteries, the cells can be accessed via a magnetic cover and are chargeable via the micro USB port.  A 0.91-inch DNA 250 display is located on the front control panel with a rectangular fire button above and two adjustment buttons below the screen.  The S-Body C3D1 is built with  Evolv's most powerful chip, allowing 250 watts of maximum output and 97% output efficiency. A full suite of temperature control elements works with all types of heating elements, including titanium, nickel, and stainless steel.  Special to this mod is Escribe software, which installs on your PC to store your favorite settings in the memory slots or fully customize the device.
Features & Specifications
Measures 36.0mm x 47.1mm x 86.0 mm
Zinc alloy construction with anti-slip panels
Threaded 510 connection with spring-loaded center pin
0.91″ OLED display
Easy magnetic battery cover
Built with Evolv DNA 250 chipset

8 preset modes
Power mode range: 1W to 250W
Temperature output range: 200°F – 600°F or 100°C to 300°C
Lowest resistance: 0.10Ω
Power mode minimum resistance: 0.20Ω or higher
Input voltage range: 9V to 12.6V
Output voltage range: 0.5V to 9.3V
Maximum output current: 55A
Efficiency: 97%
Escribe desktop customization
Wide range of safety protections
Micro USB firmware upgrades
Uses triple 18650 cells

Fast Micro USB charging
Balanced charging system
Pass-through vaping technology
Total Views Today: 1 Total Views: 130