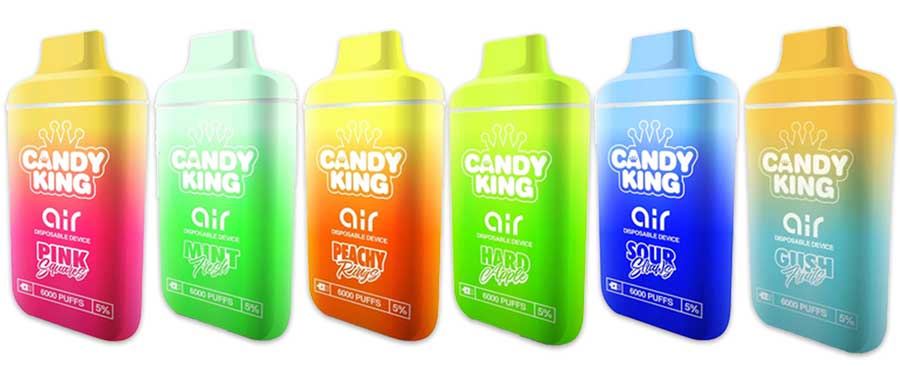 Here are cheap deals to buy Candy King Air Disposable at a low price.  Filled with Candy King e-juice, this disposable kit features about 6000 puffs, a 600mAh rechargeable battery, a 12mL pod, 5% TFN vape juice, and draw-activated firing.
Description
For those who love Candy King vape juices, the brand new Candy King Air Disposable may be ideal as it features your favorite flavors from this brand in a dispensable pod system.  With a massive 6000 puff capability, this setup should last quite a while.  This is due to a combination of a 12mL pod filled to the brim with 5% nicotine strength TFN vape juice and a rechargeable 600mAh battery which can be topped off via a convenient USB-C charging port.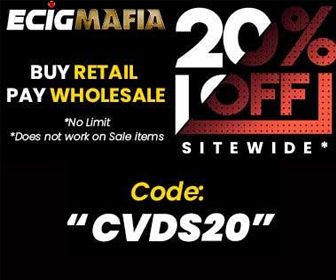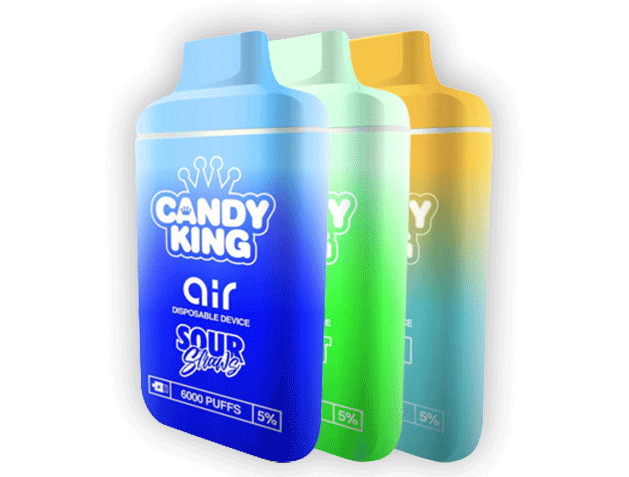 In the design department, the disposable also does not come up short because the device is portable, and the fading finishes feature bright colors that are sure to turn heads.  For convenience, this Candy King Air may be placed in the pocket, and there also is no fire button, so simply draw on the ergonomic mouthpiece to take a hit.
Specs
Approximately 6000 puffs
Portable
Bright/fading finish colors
Puff-activated firing
12 mL cartridge

Tobacco-Free Nicotine vape juice
50mg (5%) nicotine strength
Candy King blends
Ingredients: Vegetable Glycerin, Propylene Glycol, nicotine & flavoring

600mAh integrated battery

USB-C charging system
Cable not included
Flavors
Mint Fresh: Menthol-like flavors for a refreshing vape experience
Gush Fruits: A fusion of orange, green apple, raspberry strawberry, and blueberry
Pink Squares: Sweet strawberries, red cherries, and taffy blended together
Hard Apple: Refreshing green apple flavors
Peachy Rings: Tasty peach flavors topped off with hints of sweet candy and sugar
Sour Straws: Sour blue raspberry candy flavors
Strawberry Watermelon Bubblegum:  A mixture of red strawberry and sweet watermelon candy
Package
 1 x Candy King Air Disposable Pod Kit (charging cable not included)
Related Deals
Total Views Today: 1 Total Views: 6,051