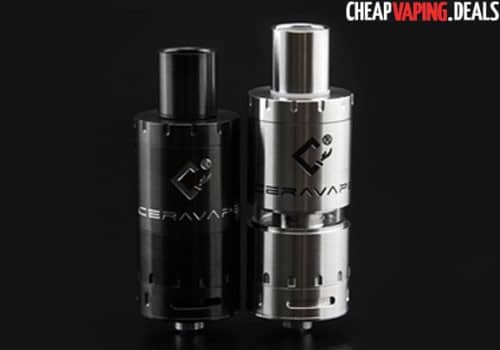 Update: The Ceravape Cerabis Tank Has Been Discontinued – Check Newer Sub Ohm Tank Deals Below
Overview
The Cerabis  is a new tank from Ceravapor and features an adequate 4ml e-liquid capacity and a patented ceramic coil system at an affordable price.
The tank has dimensions of 23mm x 63mm, is constructed from stainless steel and is available in black or silver.  The device has a 4ml tank capacity which utilizes top fill setup. To add juice, simply turn off juice flow control by turning the upper part of the tank, remove the top cap to reveal the biggest fill ports out there.
The Cerabis utilizes patented coils that feature food grade high strength ceramic wick and work well with any ratio of PG/VG without leaking.   There's absolutely no cotton used in these coils. The heads also feature unique self cleaning properties: you can simply dry burn them between e-liquid flavors for pure taste every time.  This reduces the cost of constant coil replacements.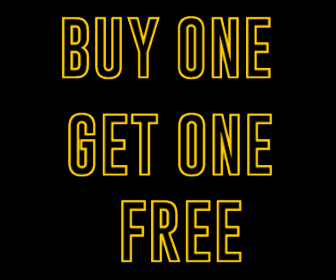 With purchase, you'll get one 0.8Ω-0.9Ω ceramic coil head, rated at 30W to 60W, and a ceramic head that fires at 30W to 80W with a resistance of  0.4Ω-0.5Ω.  These coils are said to have no ramp up time whatsoever and have a long lifespan.
Other benefits of the tank included patented anti-spit design, adjustable airflow control and anti dry-hit technology.
Overall, the Cerabis tank is said to provide flavorful & massive vape clouds in a low cost device.
Features & Specs.
Dimensions: 63mm x 23mm
510 connection pin
Made from stainless steel
Quality construction
Colors: black or silver
Includes 2 ceramic coils
Tank capacity: 4ml
Top fill system with giant fill ports
Leakproof design
No dry hits
Cottonless ceramic coil system with longevity
No ramp up time
Dry burn coils for cleaning
No cotton coils
Leak proof design with any PG/VG combination
Adjustable airflow control
Patented on/off design
Juice flow control
Video Review
https://www.youtube.com/watch?v=FVNO2hY8LwA
Total Views Today: 1 Total Views: 114