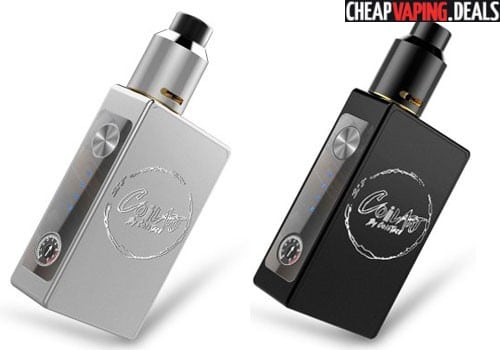 Update: The Coilart Mage Box 250W Tricker Kit Has Been Discontinued – Check  Newer Box Mods & Starter Mod Kits Below
Overview
The Coilart Mage Box Tricker kit includes a high output unregulated Mage box mod and a Mage RDA.  This Mage Box Mod features a mirror screen,  up to 250W of power with full batteries, a battery LED and amazing engravings.  The RDA in this bundle is built with bottom airflow and a gold-plated deck.  The kit is available in silver or black.
The Mage Box Mod in the Tricker Kit is a mechanical mod that features up to 250 watts of output with fully charged batteries.  The device uses two external 18650 cells that cannot be topped off while stored inside the bay.  In addition to a large fire button and an analog voltage output meter, there's 4 LED battery indicators behind a mirrored screen on the control face that will extinguish as the batteries are drained.  The Mage Mod can fire atomizers down to 0.08ohm, has a maximum voltage output up to 6.6V.
From a design point of view, this mod looks amazing with deep logo engravings on one side and a wolf pattern on the other.  The engraved plates are interchangeable so there are sure to be new designs coming out very soon, for a brand new mod look.  TheMage Mod is made from aluminum and has dimensions of 88mm x 55mm x 24.5mm.
The Mage RDA in this kit measures 24mm x 40mm, has a dual post 24K gold plated deck with four wire terminals, bottom airflow, Peek insulation, is made from stainless steel and comes with a heat-resistant Delrin drip tip.
Video
Features & Specs
Mage Box Mod 
Measurements: 88mm X 55mm X 24.5mm
Made from aluminum
Colors: black, silver
Mirrored screen
4 light LED indicator
Swappable back/front plates
Beautiful engravings
Voltage output range: 3.5V – 6.6V
Maximum power with full battery: 250W
Minimum resistance: 0.08Ω
Uses dual 18650 batteries
10 second overpuff timeout
Mage RDA
Measurements: 24mm x 40mm
Made from stainnless steel
24K Gold plated deck
Adjustable airflow
Gold-plated 510 contact
PEEK insulator
Black delrin drip tip
Pictures
Total Views Today: 1 Total Views: 160