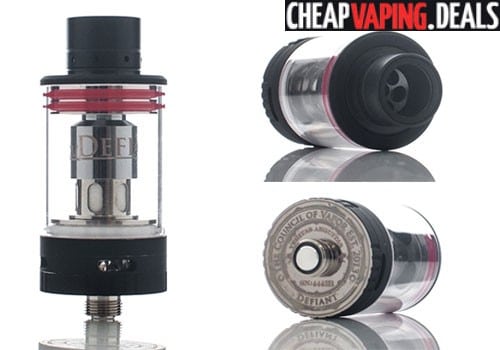 Update: The
Council of Vapor Defiant Ceramic Tank
Has Been Discontinued – Check Newer Sub Ohm Tank Deals Below
Here's a great deal on the  Council of Vapor Defiant Ceramic Sub Ohm Tank.
Overview
The Defiant is the first tank system from Council Of Vapor that was designed with a ceramic heating core.  The device features incredible airflow, a reasonable 3.1 ml e-liquid capacity, a top fill setup and a honeycomb widebore drip tip.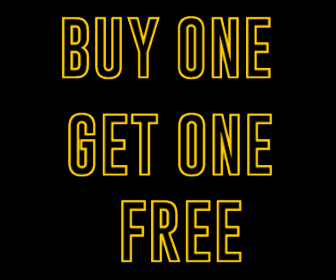 With only 47mm in height, including drip tip,  the tank was designed to be extremely compact and portable.   It features a rubberized finish to make it resistant to scratching and give it longevity. A Council of Vapor laser engraving on the subdeck also adds to the tank's classy look.
What sets the Defiant apart from other tank systems is its ceramic atomizer core.  Ceramic heating elements are made with a coat  of ceramic to ensure balanced heating, lengthen coil life, improve vapor production and enhance flavor.    The coil is structured in a vertical setup, has a resistance that hovers around 0.5Ω and a recommended wattage of  40W to 75W.  Six wicking ports on the coil combined with four large adjustable airslots further ensures massive vapor production and amazing flavors.
The Defiant includes a drip tip which features tiny airholes and a built-in honeycomb mesh.  The holes keep the drip tip cool while the mesh prevents e-juice from entering the mouth.  On the bottom of the device, you will find a silver plated 510 pin for maximum electrical conduction and mod compatibility.
Despite its portability, the Defiant features an adequate 3.1ml tank size with an easy top fill system.  Refilling is a breeze: simply unscrew the drip tip and add e-liquid through one of the four fill ports.
With portability and a ceramic core, the Defiant Tank certainly deserves a place in any vape fanatic's tank collection.  And, it's affordable compared to other similar tanks.  In addition to the Defiant Sub Ohm Tank, you will  receive two coils, o-rings and a spare glass tank tube.
Features & Specs
Dimensions: 22mm x 47mm (including drip tip)
Portable and balanced design
Pyrex glass tank
Silver plated 510 connection pin
Tank capacity: 3.1ml
Quadruple airflow with 7mm x 2mm airslots
Top fill system with four ports
Can close airflow to refill
Ceramic coil system for longevity, flavor and vapor production
Coil resistance: around 0.5Ω
Six wicking ports on coil
Power output range: 40W to 75W
Shortened drip tip with honeycomb spitback design
Laser engraved CoV subdeck
Video Review
Total Views Today: 1 Total Views: 164