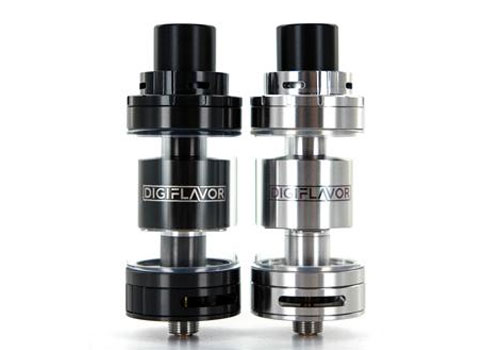 Here's some nice deals on the Digiflavor Fuji Genesis Tank Atomizer (GTA).
Review
Overview
The Digiflavor Fuji GTA  comes in a single and dual coil version.  The dual coil features a 5.5ml tank capacity while the single coil can hold up to 6ml of e-juice.  Both tanks are built with a chamber that is located nearer the drip tip for pure flavor and airflow that directly hits the coil.  You can get one in silver or black.
Both versions of the Fuji measure 25mm across and were designed for higher wattage vaping and feature a Genesis styled setup.  Depending on the version, the tank tube can hold either 5.5ml or 6ml of e-juice which is refillable with an easy top fill setup.  At the top, there's four adjustable airflow slots that direct air into the chamber and there's two huge 2mm x 14mm adjustable air slots at the bottom to further enhance air intake.  The GTA also was design for smooth e-liquid flow which prevents burnt taste and leakage.
The single coil version  features a dual post deck with a 4.5mm air hole directly underneath the coil. Coils are placed into the post slits instead of threaded through a hole.
The dual coil version is built with a dual post deck that will work with large wire and intricate builds.  Two air holes are located directly under each coil for maximum cooling and amazing airflow.
Video Review
Fuji GTA Single Coil Version Features & Specs.
Dimensions: 25mm x 46mm
Weight: 75g
Made from stainless steel and Pyrex tank
E-liquid capacity: 6ml
Dual post setup
One air hole under coil
Peek insulation
Single Coil Configurations
Dual adjustable airflow at bottom
Four adjustable air slots at top
Easy top fill system
10mm high widebore drip tip
Adjustable gold plated 510 connection pin
Fuji GTA Dual Coil Version Features & Specs.
Dimensions: 25mm x 46mm
Weight: 75g
Stainless steel chassis with Pyrex glass tube
Tank capacity: 5.5ml
Dual post setup
Two airhole under each coil
Deckmilled negative post
Peek Insulation
Works with single or dual setups
Dual adjustable airflow at bottom
Four adjustable air slots at top
Simple top fill system
10mm wide bore Delrin drip tip
10mm Tall Delrin Widebore Drip Tip
Gold-Plated 510 connection pin, adjustable
Total Views Today: 1 Total Views: 357