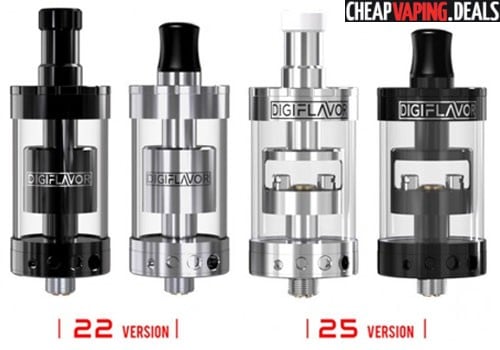 Update: The
Digiflavor Siren GTA
Has Been Discontinued
– Check  Newer RTA Deals Below
Overview
The Siren GTA is a new RTA from Digiflavor that comes in two different version and was designed to produce a maximum flavor experience with mouth to lung vaping.
The RTA comes in both a 22mm version that features a topfilled 4ml tank and a 25mm version with topfilled 5ml tank.  The 25mm Siren is built with a transparent build deck for an amazing look.  Both versions have a height of 43mm, but the 25mm one weighs slightly more.   Regardless of which version you get, you'll receive both a 5.5mm wide drip tip with a more open draw and a 3.5mm wide one that features a tight draw to produce additional flavor.
To produce incredible flavors, the GTA structure and chamber on the Siren are located nearer the drip tip.  It was also designed with improved airflow which occurs via four different air intake holes at the bottom that measure 2.5mm, 3mm, 3.5mm and 4.0mm.  Air travels from the exterior and exits in between the build deck's two posts via a 4.5mm hole.
The single coil dual post deck is built with shelf-type terminals that utilize Phillips headscrews for easy wicking.  Peek insulation is integrated to keep the tank cool and a 24 karat gold plated positive post maximizes longevity and electrical conductivity.
To ensure leak-free liquid flow and prevent burn taste, the Siren GTA also combines the benefits of vacuum technology and Genesis.
Features & Specs
Made from stainless steel with glass tube
Siren 22 dimensions: 22mm x 43mm
Siren 25 dimensions: 25mm x 43mm
Siren 22 weight: 135g
Siren 25 weight: 148g
Siren 22: 4ml tank capacity
Siren 25: 5ml tank capacity
Top fill system
Dual post build deck for single coil builds
Gold plated positives
Shelf type wire terminals with Phillips screws
Siren 25: visible deck
5mm wicking ports
Peek Insulation
4.5mm internal air hole on deck
Four setting adjustable air intake holes
Four 5mm x 1.5mm with adjustable top airflow
3.5mm & 5.5mm drip tips included
Video
Pictures
Total Views Today: 1 Total Views: 256