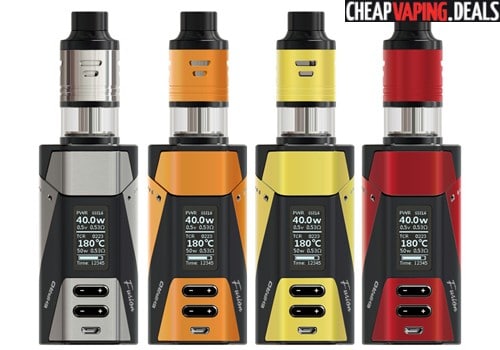 Here's a discount for the Ehpro Fusion 2-in-1 RDTA Kit that features a mod made with two chips and a tank with two chambers. This allows separate mode/resistance settings for each set of builds.
Fusion 2-in-1  Review
Overview
The innovative Fusion 2-in-1 is a brand new all-in-one RDTA Kit.  It is  unique because the included Fusion Tank features two build decks in two separate 2ml e-juice chambers that are operated by two sets of adjustment controls on the mod.
The Fusion box mod has an outside diameter of 41.5mm x 41.8mm x 84mm, is constructed from zinc alloy and is available in gunmetal/black, yellow/black, red/black, gold/black, orange/black. The device utilizes two external 18650 batteries that are located behind a bottom battery flip door.  At the top, there's a spring loaded/gold plated dual 510 connector that was made specifically for the included Fusion tank, but is also compatible with single 510 threaded atomizers.
On the control face, you will see a large vertically oriented OLED screen with a menu that displays separate vape data (mode, material, power/temperature, resistance) for chamber 1 and chamber 2 on the atomizer. Underneath the display, there's two different sets of adjustment buttons that allow easily changing the operating mode for each chamber on the atty. When firing with both chambers, the maximum output is 100 watts while the single way's highest power level is 150 watts.  Available modes include bypass mode, power mode, temperature control mode and TCR. The temperature range is 200 to 600 Fahrenheit, while the lowest possible coil resistance is just 0.06ohm.
As previously stated, the Fusion RDTA is made with two separate e-liquid reservoirs that can hold 2ml of e-juice each.  Removing the chuff cap reveals two separate refill holes for each reservoir. The unit features single and dual coil airflow that is adjustable from closed off to wide open.  The device is made from stainless steel with high temperature glass and the colors perfectly match the Fusion Box Mod's colors.
Features & Specs.
Fusion Box Mod
Measurements: 41.5mm x 41.8mm x 84mm
Made from zinc alloy
Colors: yellow/black, red/black, gold/black, orange/black, gunmetal/black
Spring-loaded dual 510 connector with gold plated pin
Compatible with single 510 atomizers
Two separate chip boards to control two chambers on atomizer
Large vertical OLED display
Two sets of adjustment buttons to set mode/temp/power/resistance for each build
Output modes: bypass, power, temperature, TCR
Temperature range: 200℉ to 600℉ or  100℃ to 300℃
Power output range: single way 0W to 150W, dual way 0W to 100W
Resistance range: 0.06Ω to 3.0Ω
Utilizes dual 18650 batteries
Hinged bottom battery door
Micro USB charging and upgrades
Fusion RDTA
Measurements: 25mm x 55.7mm
Constructed from stainless steel with temp resistant glass
Colors match the box mod
Two alternate e-juice reservoirs with 2ml capacity each
Two convenient fill holes for each chamber
Compatible with dual/single coil builds
Adjustable airflow
Pictures
Total Views Today: 1 Total Views: 322