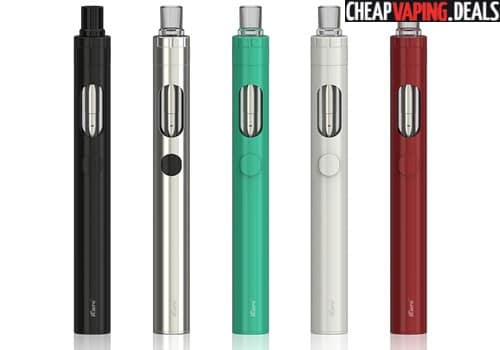 Overview
The Icare 160 is Eleaf's new starter kit and may be a perfect setup for those who want to start their vape journey.  This all-in-one setup features a built-in tank, seven changeable LED lights, a decent 1500mAh built-in battery, a 3.5ml internal tank and a top fill system.
What stands out with this kit is the many available colors including black, silver, white, cyan and red.  And it's portable: the setup has dimensions of just 16mm x 168mm and weighs only 77g for easy storage in the purse or back pocket.
Below the Icare 160's drip tip, you will see a viewing window that allows for monitoring e-juice levels of the unit's 3.5ml e-juice reservoir.  Hidden inside the tank,there's an LED that can light up with seven different colors including white, yellow, purple, red, blue, green, indigo or you can turn it off.  Adding e-liquid to the reservoir is very easy via a top fill system that entails simply removing the top cap and squirting juice into a large opening.  The entire bundle is also said to be leak-proof, thus preventing an e-liquid mess.
The Eleaf Icare 160 is very easy to use, making it a perfect device for beginners.  With a maximum battery level, the device is able of firing with up to 15 watts of power.  The battery has a capacity of 1500mAh that permits for long vaping times due to the fact that is a low powered setup.  Keeping track of charging levels is also easy: if the tank's LED stays lit, it means you have more than 60% of battery remaining, while flashing indicates it's time to recharge the cell.    Charging is done by pluggin the Icare 160's side USB port into any wall adapter or computer with the included wire.
The Icare 160 uses 1.1ohm IC coils that result in a decent vapor production with excellent taste.  This head is meant for mouth to lung vaping, so it's perfect for vape beginners or those who want a cigarette-like experience.
Video
Features & Specs.
Dimensions: 16mm x 168mm
Weight: 77g
Portable
Easy to use
Hold button to turn on/off
Excellent for vape beginners
Maximum power: 15W (fully charged battery)
1500mAh built-in battery
MTL vaping with 1.1Ω IC coil (2 included)
Decent vapor and flavor
Internal tank capacity: 3.5ml
Top fill system
Leak-proof
Tank LED light with 7 different color settings
LED will flash more frequently if low battery
Side USB charging port
Pictures
Total Views Today: 1 Total Views: 144