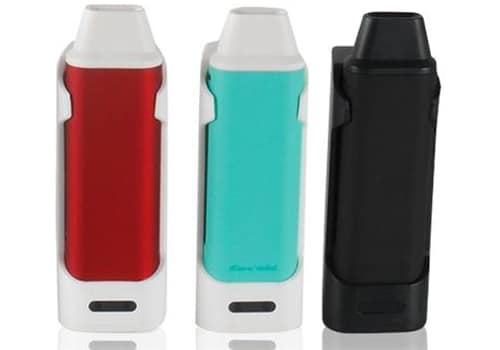 Here are cheap deals for the Eleaf iCare Mini Kit. This is a nice little portable kit for your nic salt or other high nic juices.
Deal
Overview
The Eleaf iCare Mini Kit is an all-in-one vape system perfect for high-nicotine and nicotine salt e-juices.  It is compact, has an integrated battery, is draw-activated, can hold 1.3ml of e-juice, and features adjustable airflow. The unit is made with an integrated 320mAh battery but also comes with a portable charger case with a whopping 2300mAh capacity. Both are charged via a micro USB port, and a battery LED keeps track of charge levels. Inside the iCare Mini Kit, you will find a 1.3ml internal tank that is easily refilled and has adjustable airflow. Additionally, inside the reservoir, you will see a 1.1ohm iCare IC coil that fires in the range of 5 to 15 watts.
Since this is not a sub-ohm setup, you will find it is best to use with nicotine salt or high-nicotine juices. Swapping the coil is also easy, thanks to an integrated coil slot tool.
Design-wise, this setup is small thanks to dimensions of 34.5mm by 12mm by 75mm, allowing for easy placement in the shirt or pants pocket. Available colors include white, cyan, red, and gold.
Features & Specifications
All-In-One Vape System
Draw Activated Firing
Integrated 320 mAh Rechargeable Battery

Micro USB Charged
1A Maximum

PCC Charger

2300 mAh Battery
Charges iCare Mini
Micro USB Charged

1.3ml Tank Reservoir

Top Filled
iCare IC 1.1 ohm Coil
Adjustable Airflow
Clear Tank Reservoir

Direct Voltage Output
15W Maximum
1.0 to 3.5ohm Output
Incredibly Compact Profile
34.5mm by 12mm by 75mm
Perfect for Travel and Commuting
Easily Fits Within Shirt Pocket
Multi Use Top Cap
Acts as Drip Tip
Access Coil

Integrated Coil Slot Tool

Three-Color LED Feedback
Green
Yellow
Red

Less Than 5% Battery State
Total Views Today: 1 Total Views: 980