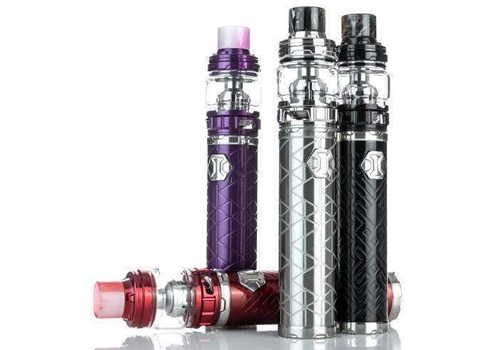 Here are cheap deals for the Eleaf iJust 3 Kit with Ello Duro Tank.  The iJust 3 kit features an exquisite design, the latest mesh-style coils for flavor and vapor, a 3000mAh battery mod, 80 watts of maximum output, a battery LED, and tons of flavor and vapor.
Deals
Review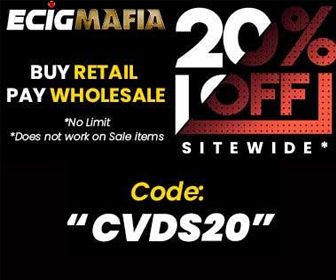 Ello Duro iJust 3 Ello Duro Tank Kit
Unlike what we saw with the eLeaf iStick P40 Box Mod, what sets this new kit apart from the crowd is the fantastic design of the tube-style mod and Ello Duro Tank because both are elaborately engineered and are available in silver, red, black, dazzling, blue, and purple. The iJust 3 kit measures 25mm x 136mm and weighs 158 grams.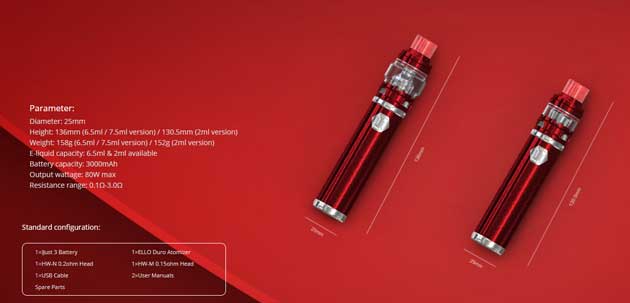 This all-in-one vape system includes both a mod and a tank. The mod is built with a 3000mAh battery that can fire with a maximum of 80 watts of power when fully charged via the micro USB port. A battery LED surrounding the high-quality fire button will display the battery level utilizing 4 colors. A green light means the charge level is above 60 percent; orange is 30 to 59 percent; blue means the battery has a 10 to 29 percent charge; and red means you need to plug the unit in.  At the top of the battery mod, you will see a 25mm atomizer bezel that can handle a wide array of 510 atomizers without overhang. Best of all, firing and charging the iJust 3 Battery Mod is safe thanks to over-charging, over-current, and over-discharging protection.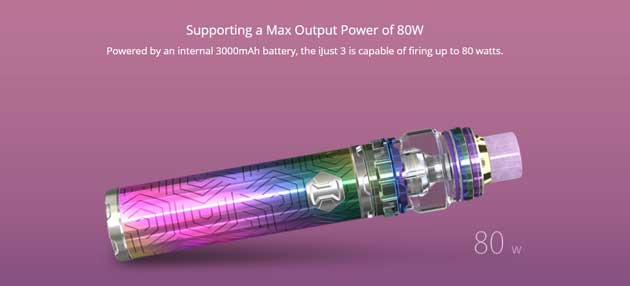 The iJust 3 all-in-one bundle utilizes the latest multi-holed mesh coils, providing better vapor and exquisite flavor. The tank has dimensions of 28mm x 54mm and features a 6.4ml juice reservoir if you install bulb-style glass. A 2ml TPD (EU regulations) is also available. To add juice to the tank, slide the top cap to expose a large fill hole. At the bottom of this tank, you will see two air inlets that can be widely adjusted.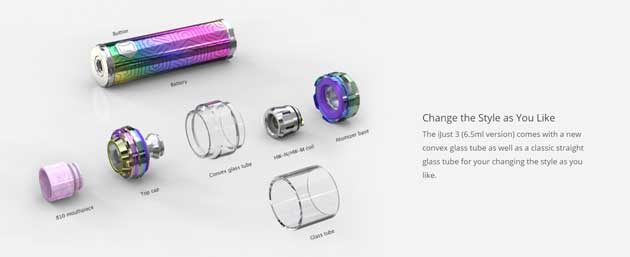 Two coils are included, both of which boast mesh coils to produce an unprecedented vaping experience with a lot of taste and massive vapor. You will get the package's HW-M 0.15ohm and HW-N 0.2ohm coils that work with kanthal heating elements.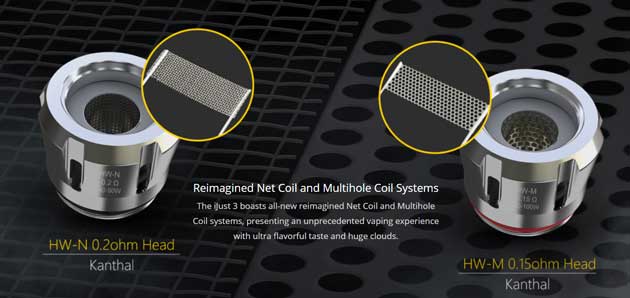 iJust 3 GTL Pod Tank Kit
In December 2020, Eleaf re-released the iJust 3 Kit with the latest GTL Pod Tank, which features a matching magnetic connection with the mod.  Refilling and changing the coils is much easier with this new atomizer; there are both 2mL and 4mL versions.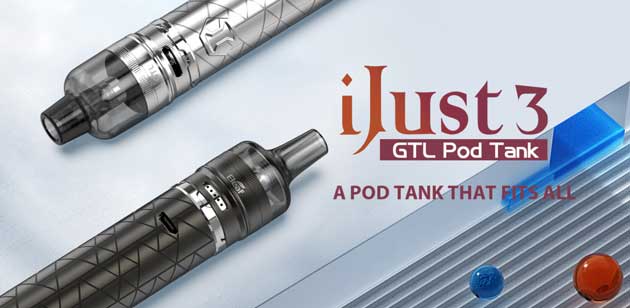 An important aspect of the GTL Pod Kit is that its pod fits all 510 threaded devices with the tank base installed.  Moreover, the airflow on this cartridge is located on both adjacent sides and comprises one big and five small holes for maximum air versatility, from wide open to extremely restricted.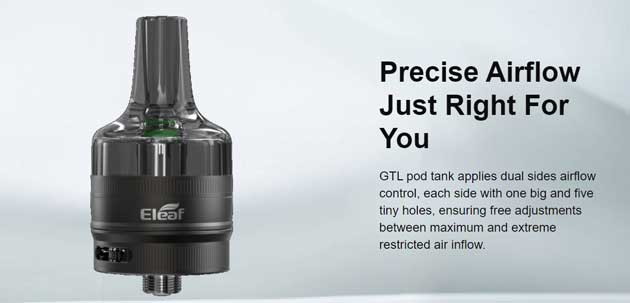 And the iJust 3 GTL Pod Kit comes in either a 2mL or 4.5mL version.  Depending on your airflow setting and the coil installed, the 4.5mL standard one is perfect for either direct-to-lung or restricted direct-to-lung puffs. You'll get a GTL 0.4ohm coil that works from 20 to 30 watts and a GTL 0.8ohm coil that operates in the range of 12 to 18 watts.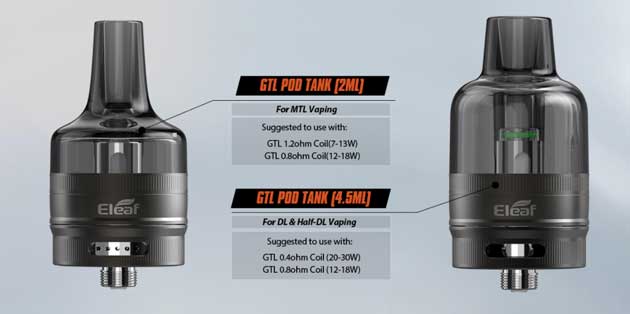 Features & Specifications
iJust 3 Mod

Dimensions: 25mm x 136mm
Weight: 158g
Amazing design
Colors: purple, blue, dazzling, black, red, silver
25mm diameter 510 bezel
3000mAh battery mod
Micro USB charging
Battery LED
Up to 80W of output with a full battery

Dual circuit protection

Over-current
Over-discharging
Overcharging

Kit w/ ELLO Duro Tank

Measurements: 28mm x 54mm
Weight: 57g
Tank capacity: 6.5ml (2ml for EU TPD version)
510 threaded connection pin
Dual bottom adjustable airflow slots
Disassembles for maintenance
Net style coils

Enhanced vapor and exquisite flavor production
Included: 1 x HW-M –0.15Ω (kanthal)
Included: 1 x HW-N –0.20Ω (kanthal)

Kit w/GTL Pod

Material: PCTG
Measurements: 26mm x 51mm (4.5mL version)

GTL Pod Tank (2ML) for MTL Vaping

GTL Pod Tank (4.5ML) for DL & Half-DL Vaping

3.8mm bottom filling slot

2ML pod coils: GTL 1.2ohm Coil (7-13W), GTL 0.8ohm Coil (12-18W)

4.5ML pod coils: GTL 0.4ohm Coil (20-30W), GTL 0.8ohm Coil (12-18W)

Fully adjustable airflow control
Total Views Today: 1 Total Views: 2,099