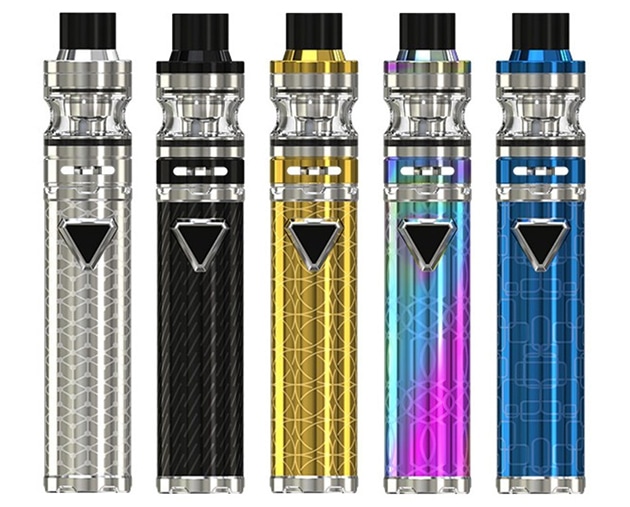 Eleaf iJust ECM 3000mAh
Here are cheap deals for the Eleaf iJust ECM Kit.  This new tube-style starter kit features two new mesh coils for better vapor with flavor, an integrated 3000mAh battery, multiple protections, a portable design, a 4ml juice capacity, 40 watts of power and an exquisite appearance.
Video Review
Overview
From a design perspective, this iJust ECM by Eleaf kit is portable thanks to dimensions that come in at only 25mm x 137mm. It is a stylish all-in-one vape kit thanks in part to beautiful finish that is available in dazzling, silver, gold, blue and black options. The finish features amazing patterns that are different for each colorway.
At the bottom of the iJust ECM, you will see the mod which is built with a 3000mAh battery and is easily recharged by way of a micro USB port. Simply use the included cable and plug the unit into any USB wall outlet or computer and you should be good to go in a matter of hours. Additionally, tracking the charge level of the integrated cell is done by way of a gorgeous LED that surrounds the triangular fire button. It will light up green if the battery's charge is above 30 percent. If the light turns blue, it means the battery's charge is between 10 and 29 percent and red means it's time for a recharge as the battery has less than 10% remaining. With a full charge, the Eleaf iJust ECM should get long vaping times since the maximum output is only 40 watts. The power output is not regulated, so performance depends a lot on the battery's charge level. But that does not mean it is unsafe as there are a myriad of safety protections built into the unit. Exact details are not listed, so we will update this page when they become available. The iJust ECM battery is also compatible with the majority of atomizers in the marketplace thanks to a resistance range capability that is between 0.1 and 3ohm.
At the top of the Eleaf iJust ECM, you will see a 4ml tank that has a 4ml juice capacity, but there's also a 2ml option for those of you who live in the EU. The tank is refilled via a top fill system that retracts the top cap to reveal a decent sized fill slot. At the bottom of the iJust ECM Atomizer Tank, you will find dual air inlets that should be widely adjustable for a customized vape experience. The Eleaf iJUst ECM works with the latest EC Mesh coils: the EC-M and EC-N. These heads have mesh heating elements which means they heat up fast and have a much larger surface area for big vapor clouds with exquisite flavor production. One piece of each mesh coil is included with purchase.
Other items you will find in the Eleaf iJUst ECM Kit's package are a micro USB cable, two manuals (one for mod, one for tank), a micro USB charging cable and some extra parts.
Features & Specifications
Measurements: 25mm x 137mm
Finish options: dazzling, blue, black, silver, gold

Each color has a different pattern

Weight: 159g (4ml edition) | 157.8g (2ml edition)
Portable
Juice capacity 4ml | 2ml (EU customers)

Retractable top fill design for easy filling

Triangular fire button with LED
3000mAh integrated battery

Micro USB charging system
Battery LED

Green: 30% to 100% battery life
Blue: 10% to 29% battery life
Red: less than 10% battery life

Maximum power output: 40W
Resistance range: 0.1ohm to 3.0ohm
New mesh coils

EC-N 0.15ohm Head
EC-M 0.15ohm Head
Large heating surface
Improved flavor
Massive vapor

In package

ECM Battery Mod
ECM Tank
EC-M 0.15ohm Head
EC-N 0.15ohm Head
Micro USB charging cable
Two manuals
Extra parts
Gallery
Total Views Today: 1 Total Views: 11