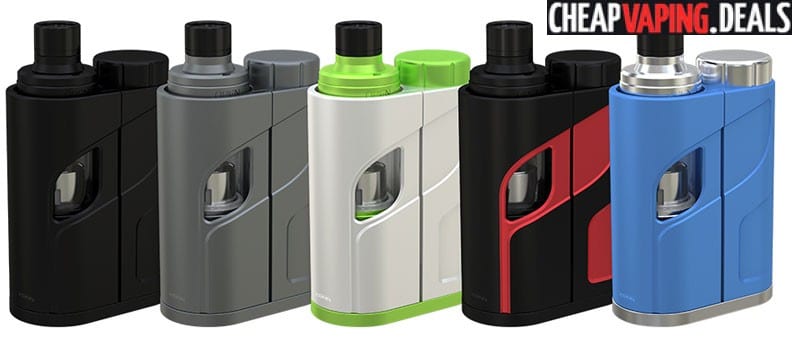 Update: The

Eleaf iKonn Total Kit w/ Ello Mini Tank Has Been Discontinued – Check  Newer Mini Box Mod & Kit Deals

 Or

All Mod/Kit Deals 
Overview
Check out the Eleaf iKonn Total Starter Kit that features a 50 watt mod which is built with a submerged tank setup.  There's two different options: there's the kit with a 2ml Ello Mini Tank or choose the one with a 5.5ml Ello Mini XL for less frequent refills.
Both the 2ml and 5.5ml versions are small and easily carried. The standard Ello Mini Kit measures 48.8mm x 28mm x 84mm and the XL version's height is just 2mm less.  In addition to being compact, The iKonn Total has a stylish design and is said to be comfortable to hold or carry in the pocket.  And, there's many available colors: full black, full grey, white/green, black/red and blue/silver.
What sets this kit apart from many others is the recessed tank setup that allows the atomizer to be stored inside the mod.  This reduces the possibility of damage and also keeps the kit more portable. The tank is easily accessed thanks to a brand new sliding back cover that also hides the fire button underneath. To refill, there's no need to remove the tank from the iKonn Total Mod as the top cap retracts to reveal a large fill port.  E-liquid levels are monitored via a viewing window on the sliding cover.
Adjacent the submerged atomizer bezel, the single 18650 cell that powers the mod is stored.  It is easily swapped out by unscrewing a battery cap located at the top.  Battery life can be detected via an LED that lights up after every single puff.  If the light stays lit, it means your have a battery life of 60% or more, while flashing that increases in intensity indicates the battery may be getting low.  You may use the micro USB port on the bottom that plugs into any USB wall adapter or computer to top off the cell.  Due to built-in dual circuit protection, the battery is always protected from over-charging, over-discharging and over-current during the on-board charging process.
This mini mod is an unregulated device, so power output depends solely on the battery's charge level.  With a fully charged cell, the kit will put out up to 50 watts of power.  And, with a resistance capability that ranges from 0.15ohm to 3.0ohm, you may also be able to use the iKonn Total Box Mod with a large number of other tanks.
The included Ello Mini or Ello Mini XL use the exact same coil systems.  With purchase, you will get the 0.2ohm SS316L HW1 head that features a single coil chamber, fires in the range of 40 watts to 80 watts, but is best at 50W to 65W.  Or, you can use the included 0.3ohm Kanthal HW2 coil with dual chambers that is capable of firing up to 70 watts, but is recommended from 45 to 60 watts.
iKonn Total Kit Video
iKonn Total Kit Features & Specs.
ELLO Mini XL version: 48.8mm x 28.0mm x 82.0mm / 178g / 5.5ml
ELLO Mini version: 48.8mm x 28.0mm x 84.0mm / 194g /2ml
colors: blue/silver, black/red, white/green, full grey, full black
Compact & portable
Completely detachable
Sliding top fill system
E-liquid viewing window
Submerged atomizer bezel
510 threaded connection
Utilizes 18650 battery
Easy top battery cap
Micro USB charging
Battery LED
Dual circuit protection
Maximum power output: 50W
Resistance range: 0.15Ω to 3.0Ω
HW Series of coils
HW1 coil: best from 50W to 65W for decent flavor and more vapor
HW2 coil: best from 45W to 60W for best flavor with slightly less vapor
iKonn Total Kit Pictures
Total Views Today: 1 Total Views: 124