Here are cheap deals to buy the Eleaf iStick Pico LE Box Mod or Eleaf iStick Pico LE Kit w/ GX Tank.  The mod features extreme portability, stitched leather, 18650 battery support, 2 amp Type-C charging, a 26mm diameter bezel, 75 watts of adjustable power, and a display screen. The kit's pod tank has GX coils with smart coil protection, smooth adjustable airflow, a 5ml e-juice reservoir, easy side refills, and a strong magnetic connection to the mod.
Color Options
Eleaf iStick Pico LE Box Mod
The iStick Pico LE Mod continues the appearance, portability, and lightweight design of previous Pico mods, but this new version looks quite a bit better.  That's partly due to the exquisite color block design and the use of stitched leather, making this small kit one of the most exquisite Eleaf iStick Box Mods in the vape marketplace.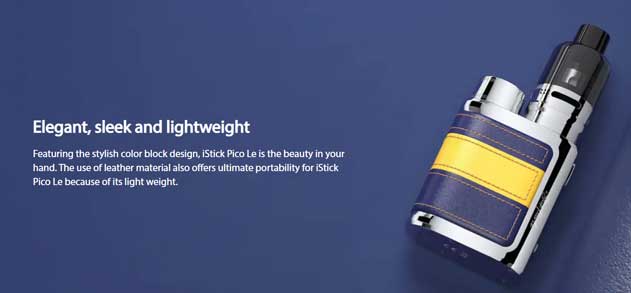 When you open the box, you see the device retains the signature Pico style, such as the convenient battery cap adjacent to the atomizer bezel that hides the 18650 battery bay.  But, the display looks upgraded with a monochrome user interface with a vertically-oriented menu.  On the screen are indicators such as current mode, battery percentage, atomizer resistance, and more.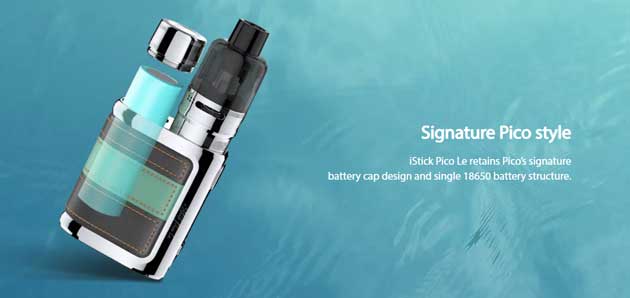 Another update to this new mini-mod is the atomizer bezel which has been widened to be compatible with 26mm atomizers.  This is tremendous as the new device only measures 27,7mm x 51.8mm x 110.5mm with the GX Tank installed.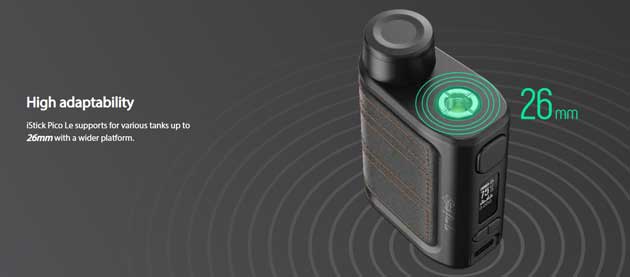 As previously mentioned, the Eleaf iStick Pico LE Box Mod uses a single 18650 battery, but we didn't mention the 2 amp fast-charging USB-C port on the control face.  This drastically reduces the weight time to recharge the battery, but you may also keep an extra battery in your pocket to continuously stay powered up.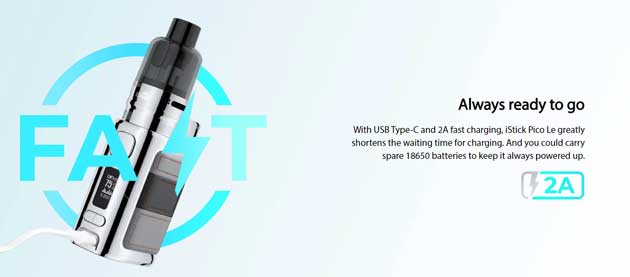 Eleaf iStick Pico LE Box Kit w/ GX Tank
The Kit includes the GX Tank, which provides pure flavor thanks to the AST steel material that heats up evenly and instantly.  And, with a 2000 puff lifespan, the coils are quite durable.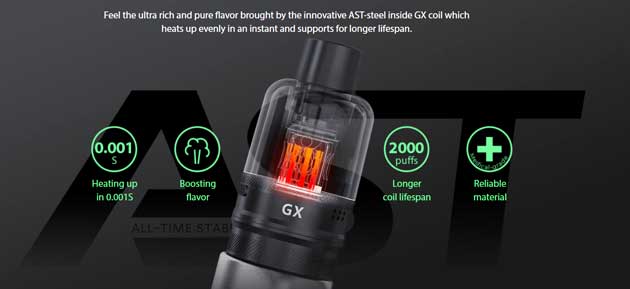 The GX coils also utilize a mesh design to support higher wattage and produce dense clouds with original flavor production.  With the purchase of the iStick Pico LE kit, you will get a 0.2ohm GX coil with a power range of 50 to 80 watts and a 0.50ohm version that fires between 25 and 45 watts.  These heads feature a plug-and-play installation process to make swapping them out easy and mess-free.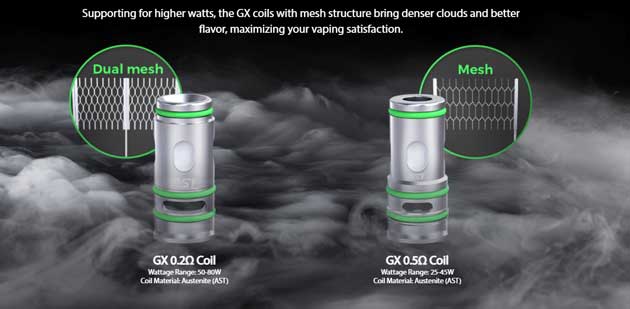 The pod tank also has an easy side-fill port near the top of the atomizer. To refill the massive 5ml juice reservoir, lift the stopper to inject vape juice into the exposed juice port easily.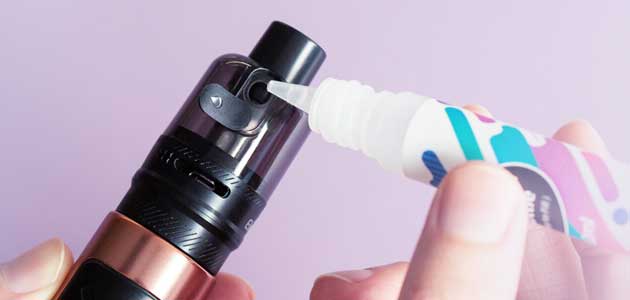 Airflow on the kit's pod tank is also redefined to be more concentrated and have a more direct path to the coils.  This enhances intense flavor and improves the density of vapor production.  And the pod has a strong magnetic connection to the mod, so it won't move around or make noise.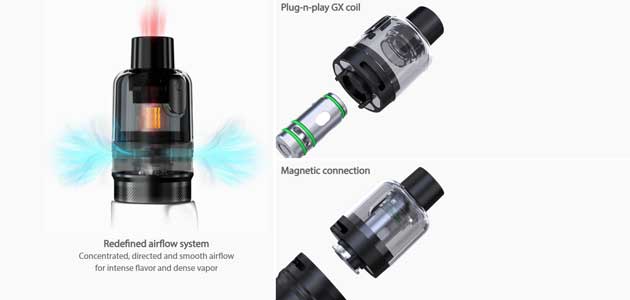 Features & Specifications
Mod
Dimensions: 27.7mm x 51.8mm x 110.5mm (with tank)
Color options: green/black, full black, black/grey, orange/brown, yellow blue
Mod weight: 86g
Elegant
Lightweight
Stitched leather finish
Signature Pico style
26mm bezel
Display screen
Battery: single 18650
5V/2A Type-C USB port
Effortless battery cap
Power range: 1W to 75W
Mode: power mode only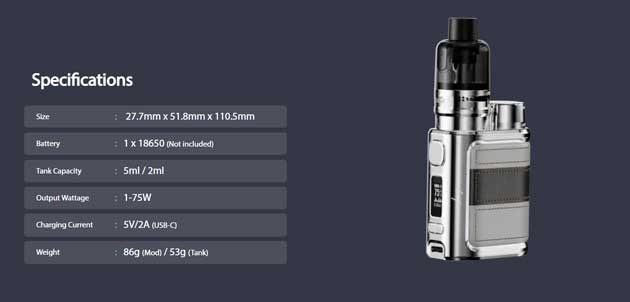 Kit w/ GX Tank
Tank dimensions: 26mm x 55.7mm
5ml juice capacity
Easy top/side refills
Leakproof
Refined concentrated airflow
Dense vapor
Incredible flavor
Powerful magnetic connection
Plug-n-play GX coils

AST steel for longevity
Meshed structure for fast, dense vapor
2000 puffs lifespan
Reliable medical-grade material
0.001s heating
GX 0.2Ω coil | 50W to 85W
GX 0.5Ω coil | 25W to 45W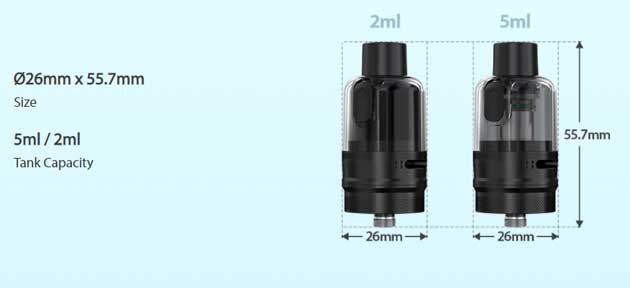 In The Box
With the purchase of the mod, get a USB Type-C cable, a manual, and a warranty card.  The Kit includes all that, a GX Tank, a 0.2ohm coil, a 0.5ohm coil, another manual, and a warranty card.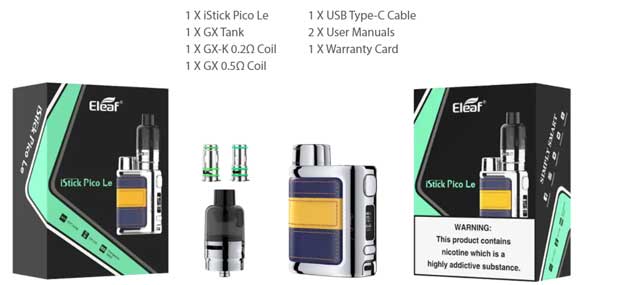 Total Views Today: 1 Total Views: 3,281