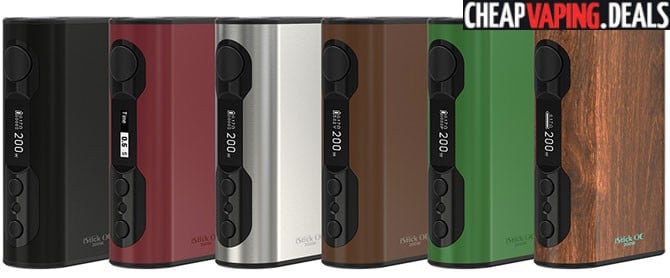 Overview
The Istick QC 200W is the latest high-powered box mod from Eleaf.  It features 200 watts of maximum output, a massive 5000mAh battery for long vaping times, a preheat system, variable temperature operation with many coil types, and a stylish design.  This device is also available in a kit that includes a Melo 300 tank.
From a design perspective, the QC 200W looks almost identical to the Eleaf Istick Nano, but with a larger form factor.  The device features a modern look with many available colors that include black, red, silver, brown, green, and wood grain.  With measurements of 52mm x 25mm x 83mm and a weight of just 195g, it is also quite portable for a mod with massive power.
The OLED is located on the side and allows for easy switching between modes via two adjustment buttons at the bottom of the control face.  The menu can be customized with either a simple or detailed configuration.  The simple menu shows resistance and wattage/temperature while the detailed interface has additional information such as voltage, puff time, and total puffs.
The QC 200W is built with an internal battery that has a whopping 5000mAh capacity to permit very long battery life with steady output.  The unit is recharged via the USB port and the process is faster with a charging current of 1.5A if you utilize the optional Avatar quick charger, instead of the included USB cable.  There's also amazing technology that ensures balanced trickle charging of the three built-in batteries that combine as the mod's power source.  Best of all, with an optional reverse charging adapter, the 25mm atomizer bezel at the top can be used as a power bank interface to charge smartphones, tablets, and other USB devices in case of an emergency.
With the latest operating system installed, the Istick QC 200W is capable of 200 watts of maximum power and will work in temperature mode down to 0.05ohm in the range of 200 to 600 Fahrenheit.  The following output modes are accessible as presets: power mode, smart mode,  three temperature control modes (nickel, titanium, stainless steel), and three memory slots for TCR operation.  There's also a preheat function to permit faster initial coil heating.
Firmware is also upgradable via the USB port in case there's a new operating system and there's a reset button if there's a software glitch that results in a failed update.
Features & Specs.
Dimensions: 52mm x 25mm x 83mm
Weight: 105g
Stylish design
Large 25mm atomizer bezel
510 connection with gold plated pin
Available in full kit with Melo 300 tank
Colors: wood grain, green, brown, red, silver, black
OLED with switchable menu (simple or detailed)
Massive 5000mAh battery capacity
Use as a power bank for smartphone/tablet
Power output range: 1W to 200W
Temperature output range: 200℉ to 600℉ or 100℃ to 315℃
Power mode resistance range: 0.10Ω to 3.5Ω
Temperature mode resistance range: 0.05Ω to 1.5Ω
Voltage output range: 0.5V to 9V
Mode presets: VW / Smart / TC Ni / TC SS / TC Ti / 3 x TCR
Micro USB charging
1.5 maximum charging current with optional Avatar adapter
Trickle charging system
Balance charging
Dual circuit protection to prevent over-charging, over-discharging and over-current
Micro USB firmware upgrades
Factory reset button
Video
Pictures
Total Views Today: 1 Total Views: 49