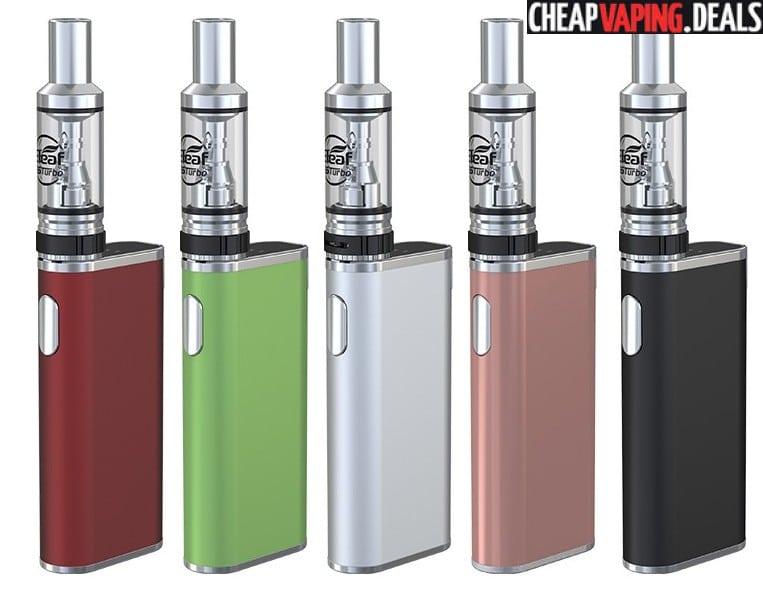 Here are some great deals on the Eleaf iStick Trim Kit With GSTurbo Tank.
Review
Overview
The Istick Trim is the compact box mod by Eleaf, perhaps the smallest in the iStick Series by Eleaf. This affordable device features a thin profile, an ergonomic design, an LED battery bar, a decent integrated cell, fast 2 amp charging, and three power levels.  If you get the kit with GSTurbo, this tank has a refined airflow system, a top fill system, a 1.8ml capacity, and flavor-producing coils. The box mod is available in red, black, silver, greenery, and rose gold.
With dimensions of 35mm x 15mm x 126mm and weighing just 96.7g, the kit is thin yet easy to carry around and comfortable to hold in the palm.  The box mod utilizes a 1800mAh battery that is rechargeable via a micro USB port on the top/side. The charging system is built with the latest technology, allowing for a fast 2A current to ensure the cell is topped off quickly. Keeping track of charge levels occurs via five top-located LED lights that extinguish as charge levels decrease.  When the LED status has 5 bars, you have over 81% battery charge, four bars mean more than 60% battery life, three lights are over 41%, two bars are 21%, and one bar means you should plug the mod in.
Even though the Istick Trim Mod behaves almost like an unregulated mod, there is still a built-in capability to set power levels to high, modest, or low. Changing this setting is as easy as three clicks of the rectangular fire button.  Depending on the coil resistance of the attached atomizer, wattage output may vary from 5 watts to 22 watts.
Included with the iStick Trim Kit, you will receive a GSTurbo tank, only available in silver, and features a 1.8ml juice capacity and a top fill system. New with this tank is a brand new airflow that utilizes a sophisticated way to precisely adjust air intake.  Airflow may be set from one hole to open fully. The GS air coils inside the tank are said to produce flavorful vapor.  With purchase, you will receive a GS Air 0.75ohm coil that fires from 8 to 25 watts. Or install the GS Air 1.5ohm coil with an output range of 8 to 20 watts.
Features & Specs
Measurements: 45.2mm x 23.2mm x 70.6mm
Weight: 96.7g
Thin, portable, ergonomic
colors: rose gold, greenery, silver, black, red
1800mAh internal battery

Micro USB fast 2A charging
LED battery bar

Three power output levels

Change output with three clicks of the fire button
Low, medium, and high output

Output depends on atty coil resistance

Dual circuit protection

Both hardware and software battery protections
Prevents over-discharging, over-current and over-charging
Features

304 stainless steel body with a pyrex tank
Tank capacity: 1.8ml
Top fill system
Sophisticated adjustable airflow
Disassemble for maintenance and cleaning
GS Air Coils

0.75Ω coil / 8W to 25W
1.5Ω coil / 8W to 20W
Gallery
Similar Products
Total Views Today: 1 Total Views: 440