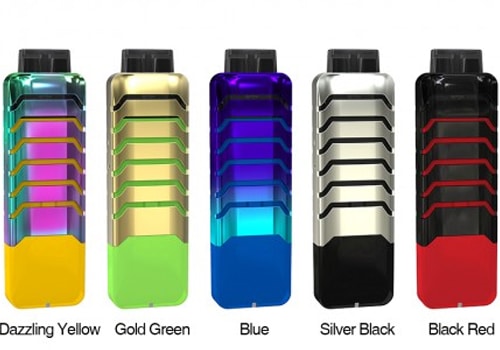 Here are cheap deals for the Eleaf iWũ.  This new pod system kit by Eleaf features a portable design, a sleek appearance, 2ml leak-free refillable pods, a side fill port with silicone stopper, a 700mAh integrated battery and a 1.3ohm coil for use with nicotine salt or high nicotine e-liquids.
Deal
Review
Overview
The iWũ has dimensions of 30mm x 14mm x 98mm and weighs 58 grams, making it extremely portable and effortless to carry. Available in silver/black, black/red, dazzling yellow, gold/greenery and blue, the device uses 2ml refillable pods that are said to be leak proof to avoid a mess while in your pocket or during refills. The cartridge utilizes a silicone stopper that you simply lift to access a decent sized fill port. Inside each pod on the iWũ kit, you will find a 1.3ohm coil, making this vape system ideal for nicotine salt vaping.
The pods on the iWũ kit are inserted into the bottom battery which has a 700mAh capacity and should provide for decent vaping times. A battery LED, located near the bottom, will light up green if the battery charge level is above 60 percent, orange if between 30 and 59 percent, purple between 10% and 29% and red if a recharge is required. To top off the cell, simply plug the iWũ into any USB wall adpter or computer. Multiple protections include overcharge, over-discharge, over-current, over-puff and short circuit protection, so you know that it is safe to vape or put in your pocket. Best of all, there is no need to press a fire button to engage the iWũ kit. All you do is take a puff and the firing system will automatically activate.
Features & Specifications
Measurements: 30mm x 14mm x 98mm
Extremely portable
Colors: silver/black, black/red, dazzling yellow, gold/greenery and blue
Pod system

2ml cartridges
Easy sidefill
Silicone plug
Replaceable 1.3ohm coils

Built-in 700mAh cell

Direct output to atomizer
Maximum output : 15W
Micro USB charging cable included
Battery LED

Green (100%-60% battery remaining)
Orange (59%-30%)
Blue (29%-10%)
Red (less than 9%)
Similar Products
Total Views Today: 1 Total Views: 240