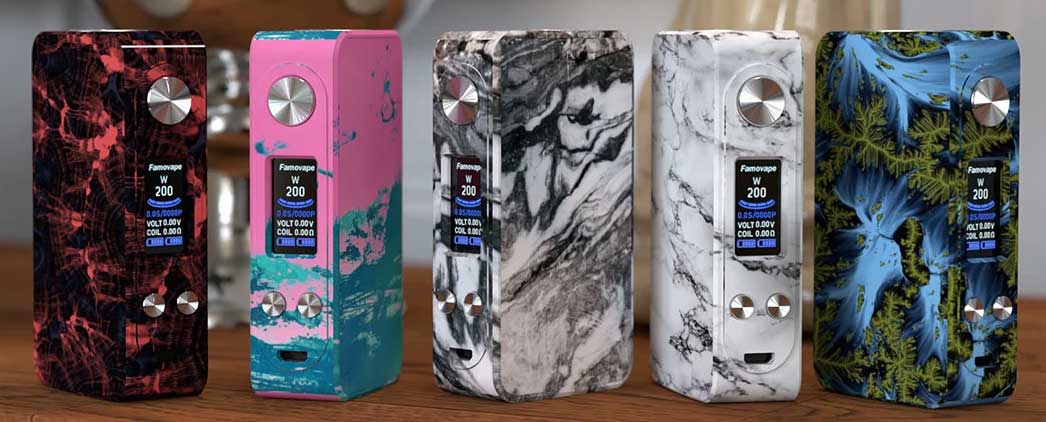 Update: The
Smok Magma Mate
Has Been Discontinued – Check  Newer 200W Box Mod  Deals Below
Or
All Mod/Kit Deals
Check out these cheap deals to buy the Famovape Magma Mate, for sale as a Box Mod or Kit. The mod features 200 watts of output, power mode, temperature control mode, a full-color TFT display screen, dual 18650 batteries, low minimum resistance capability, and fast 2 amp USB charging.
Overview
The Magma Mate is the followup device of the Famovape Magma Mod. In comparison, the new device looks and operates similarly, but the finishes are marble-style with Flamenco, Impulse, Marble, Selva and Taiji options.   At 87mm x 48.5mm x 25mm, the measurements are also identical, but it is lighter thanks to the ABS chassis instead of the standard zinc alloy material. As a result, the Magma Mate Mod is light enough to effortlessly carry, while continuing the same operational capabilities.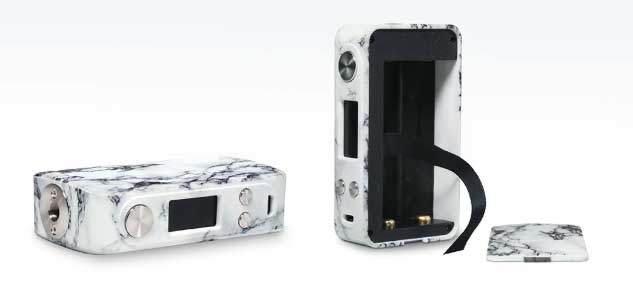 Technically, the Famovape Magma Mate also does not let down with both power mode at 200 watts and three temperature control modes that work with nickel, titanium, and stainless steel heating elements.  Unfortunately, a TCR mode is not listed in the specifications, but that is perhaps because this device is meant to be affordable. Finally, powered by dual 18650 batteries, the Magma Mate has a fast 2 amp charging system which means you can simply plug it in with the included cable. The cells are stored behind a magnetic panel that easily comes off, yet stays in place due to powerful magnets.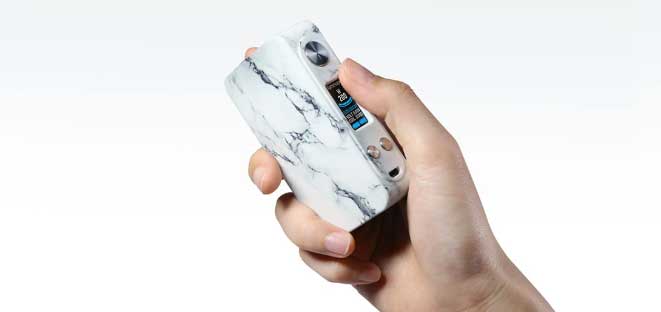 Although the Magma Mate Kit is not for sale yet, it features a GAX disposable tank that can store 2mL of e-liquid and works with 0.15ohm mesh coils. What is uncertain is how long the coil will last and the number of refills before the tank expires, so we will add this information when it is released. At the bottom of this atomizer, there are dual adjustable air slots to provide a versatile vape experience.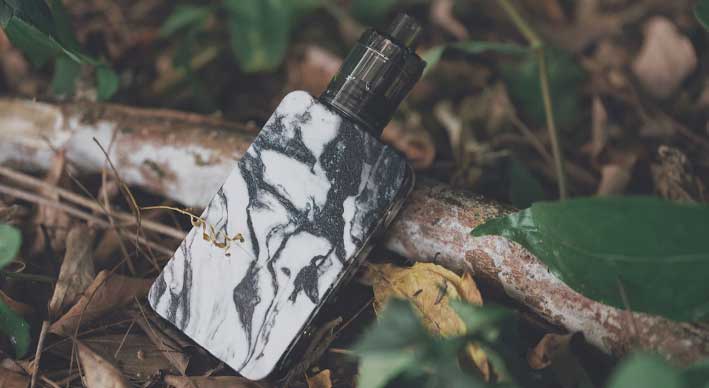 Famovape Magma Mate Features & Specifications
Size: 87mm x 48.5mm x 25mm
Made From ABS
Marble finishes: Flamenco, Impulse, Marble, Selva, Taiji
0.96″ TFT Full Color Display Screen
Magnetic panels
Bottom ventilation
Works with dual 18650 cells
Micro USB charging DC 5V/2A (cable included)
Operating modes: VW/TC -Ni/TC-SS/TC-Ti
Temperature control:  200°-570°F
Variable wattage range: 5W to -200W
Atomizer resistance range: 0.08Ω -3.0Ω
Voltage output range: 1-7.5V
Several safety protections
Related Deals
Total Views Today: 1 Total Views: 357