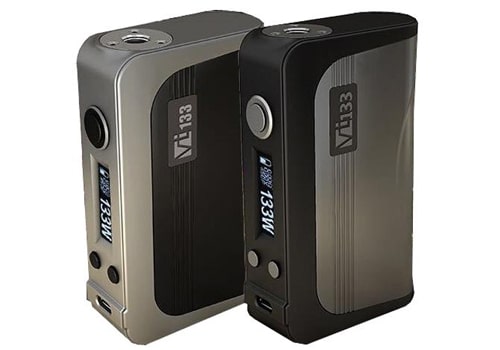 What a fantastic deal on the amazing Hcigar VT133 DNA 200 Box Mod.
Update: This Item Is Out Of Stock Everywhere – Check  Similar DNA250C Mods Below
Overview
The HCigar VT133 is the next generation in the line of DNA 200 box mods with a lowered wattage but all of the same accuracy and amazing functionality of the amazing Evolv chipset.
The look of this Hcigar mod is completely new with a beautiful curved body constructed of Zinc Alloy.  It is available in silver with a black aluminum battery door.  The buttons on this device are aluminum and the 510 connection is all stainless steel with a springloaded silver plated brass pin.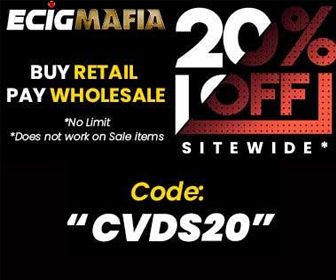 The mod uses two external 18650 batteries which are located in the battery bay behind an easy-to-remove sliding sleeve.  Battery swapping is a breeze and additional colored sleeves may be purchased to customize the VT133's look.  If you don't have a charger, it is quite safe to charge this unit via the USB port which doubles as a firmware upgrade port.  The VT133 can also be customized via Escribe desktop software.
Because this DNA 200 device is powered by only two high amp batteries, it's maximum output has been reduced to a still massive 133 watts, which is certainly adequate to power virtually every atomizer, build or sub ohm tank you can buy.   The mod is capable of temperature control in the range of 200°F to 600°F and can fire atomizers with resistance all the way down to 0.08Ω.
Overall, you cannot go wrong purchasing any Evolv DNA 200 box mod and the VT133 is no exception.  This unit is bound to have precise temperature control and can be easily fine tuned to ensure you get the vape you like.  And, at this price, the VT133 is an excellent buy.
Features
Dimensions: 99mm x 56mm x 24.5mm
Constructed of zinc alloy
Knurled aluminum buttons
Evolv DNA 200 chipset
Power output range: 1W to 133W
Output voltage range: 0.5V to 0.6V
Temperature control range: 200°F to 600°F
Power mode resistance range: 0.1Ω to 2.0Ω
TC mode resistance range:  0.08Ω to 1.0Ω
Autosense resistance
Powered by dual 18650 batteries in series
Easy remove sliding battery sleeve
Silver plated battery contacts
USB charging
Stainless steel 510 connector
Big OLED display with easy menu
Left handed mode
Reverse battery protection
Cell balancing
Cell by cell monitoring
Low battery warning
Temperature protection
Resistance protection
Overheat protection
Auto power down functionality
Stealth mode
Lock mode
Power preset mode
Power lock mode
Video Review
Total Views Today: 1 Total Views: 173